Welcome to Latin America (LatAm), a population of over 670mn and a fertile market for iGaming.
While being a golden opportunity for operators and bookmakers to tap into an endless market of active, diverse audiences, entering this market can be murky as the legal framework is still in its developing state. Today we will take a closer look at the current state of the online gambling market in South America, its trends, opportunities and obstacles, as well as delve deeper into the legal state of iGaming within the region.
Overview of online gambling in Latin America
For years, Latin America has been in the spotlight within the global online gambling community. Despite challenges such as jurisdictional inconsistencies and payment processing, experts predict that this region is poised to become a major player in the industry. So, what factors foster confidence in the Latin American market? What makes it such a promising and attractive spot for online gaming? Several factors contribute to this.
Large population


The Latin American region has a population of more than 670 million, which offers huge potential in the field of online gambling.

Growing middle class


Latin American middle class is rising fast, contributing to economic and business expansion, as this group has more available budgets for leisure, including online gambling.

High mobile adoption


Over 70% of the population in Latin America owns a smartphone making mobile gaming a viable entertainment.

Growing acceptance of gambling regulation
Recent years have seen many announcements by South American countries about developing or improving legislation to regulate the industry. Brazil, which has been finalising its legislation to regulate this niche, is the latest big example of this movement. These efforts make the region a more business-friendly environment and attract investors.
Sports betting fandom


Latin America is arguably one of the few regions where sports betting is paramount and sometimes even more influential than casinos. The population's love of sports translates into a desire to support their favourite teams, which generates strong demand for sports betting services.

Cultural values


Lottery, bingo, betting on horse races – many gambling activities were a part of the daily lives of Latin Americans throughout history. In some countries, this loyal to gambling has been cultivated over many years.
Especially noteworthy is the last point. Local interest in gambling and online gambling has traditionally been rooted in the history of particular countries and regions. Mexico, for example, has a rich history of gambling dating back to the Aztec empire, when they played a game called Patolli. A popular form of gambling in Brazil is the 'Jogo do Bicho', a lottery game that's been around for more than 100 years.
Chile, Peru, Argentina are some countries where people prefer lotteries and horse races. Clearly, gambling has been a popular activity in South America for decades. Since most populations are already familiar with certain gambling activities, they grasp the concept and value of gaming with the desire to experiment, making South America ripe for innovation.
Regulatory landscape
Latin America's rapid and promising growth is hampered by the lack of a clear and unified regulatory system for online gambling. As of now, the region looks rather fragmented, with regulations varying by country, ranging from 'outright banned' to 'completely regulated', resulting in many ambiguous areas with no clear position. 
The term 'grey markets' refers to areas where gambling is neither explicitly legal nor illegal. Lack of regulation can lead players to choose online gambling brands that are not necessarily trustworthy or reputable, putting their funds and personal information at risk. 
Semi-regulated markets pose reputational and regulatory risks to operators, as well as reduced opportunities for promotion and payment processing. 
The state loses tax profits, provides insufficient protection for the public, increases the risk of fraud and money laundering. However, excessive regulation can restrict market growth and deter prospective operators due to its high costs and complicated guidelines. This situation requires the government to strike a balance to maximise potential.
Let's look at how gambling legalisation in the region is currently going.
Legal status of online gambling in Latin America
Mainland legal status of online gambling is rather patchy. There are a number of countries that have permitted online gambling and are now enjoying its rewards, there are those that prohibit all forms of gambling, which cut them off from market share, and there are undecided ones where online gambling is neither prohibited nor permitted. Delaying official regulation harms its own, as it may always affect regional development, player safety, and additional taxation.
Let's examine the three countries below as examples of countries where gambling is legal in South America. 
Argentina 
The federation-like structure of Argentina's government allows it to regulate online gambling at the level of each of its 23 provinces and the city of Buenos Aires. The basic rule is that online gambling is prohibited if it is not allowed at the local level. 
As of now, online gambling is allowed, regulated, and active in most provinces, while elsewhere, it is still a topic of discussion. 
Brazil
As a potential rival to Argentina and Mexico, Brazil stirred things up in 2018 when it drafted a law regulating gambling. In 2023, however, that law has yet to be passed. After the election in 2022, experts are back to discuss the details, and hopefully, 2023 will bring regulatory clarity to this promising market.
Colombia
It was Colombia that pioneered the online gambling industry in the region by making it legal and licensing operators back in 2016. Based on these results, it is obvious that proper licensing and cooperation with operators lead to economic growth, as we will see further. Furthermore, tax revenue from gambling funds and contributes to the country's healthcare system.
Licensing requirements
To sum it up, we can say that licensing is fragmented, uncoordinated, and varies from country to country across South America. 
A number of the most comprehensive and transparent frameworks of laws regarding online gambling can be found in Mexico and Colombia. Although Brazil is still up in the air, clear requirements are emerging there as well. The recent Brazilian requirement that sports betting operators be located in the country rather than remotely is a good example of this. 
Obtaining a licence in LatAm may require the following:
Financial stability and solvency

Proof of Responsible gambling practices

Player information and fund protection

Anti-money laundering compliance

Technical and operational compliance

Tax and fee payments

Local legal entity

Compliance with country-specific regulations and licensing requirements

Expert legal advice on country-specific licensing processes
The process of obtaining a licence in a growing powerhouse such as South America can be lengthy and resource-intensive due to the regulatory framework not always being clear and thorough. Otherwise, targeting new and active audiences when in a growing market could prove to be a wise investment.
Online gambling in Latin America: market analysis
Several of the factors we discussed above – the cultural background, the vibrant economy, the creation of a legal framework for online gambling, and the growing digitalisation – have been confirmed by industry experts: Latin America has enormous market potential. ResearchAndMarkets.com estimates that the Latin American gambling market will grow at a CAGR of 18.4% between 2022-2028, which supports the thesis. 
To get a better understanding of the development of the region, let's look at Latin America in online gambling stats.
Market size and trends
The data does not lie, so check out the infographic below and see a snapshot of the current state and predictions for the industry.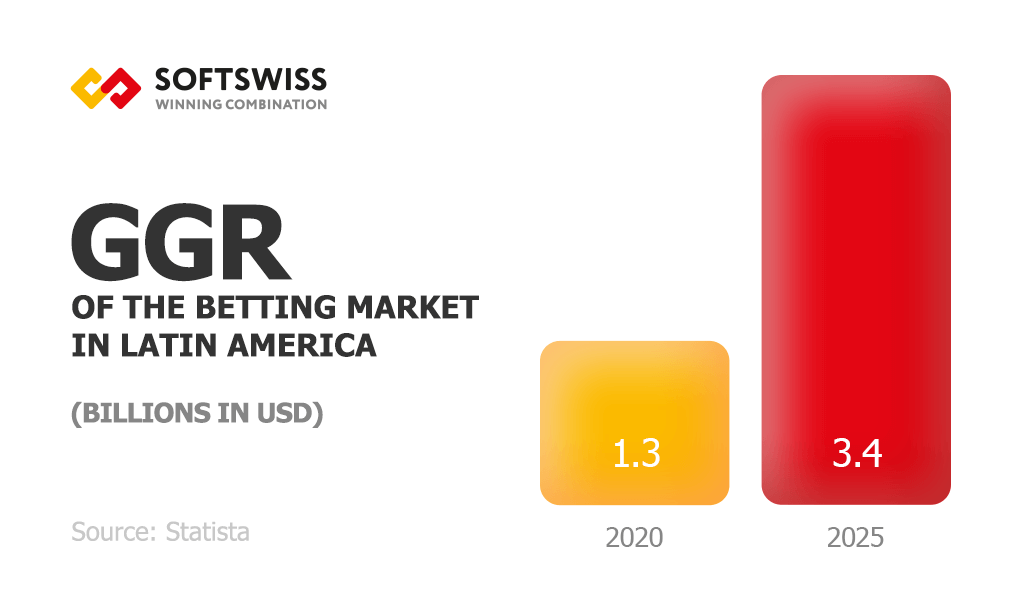 According to Statista, Latin America's online gambling market will grow exponentially to USD 3.4bn in 2025.  This point confirms all the predictions of experts that the region is well-positioned to take the lead in the foreseeable future.
Nuvei's detailed statistics on gambling by country in Latin America enhance the picture even more. They rely on the number of daily visits to casino websites within a jurisdiction as an indicator of gaming activity. Three of the top eight countries in the ranking are from Latin America, beating even the UK in this ranking.
| Market | Global ranking | Daily visits ('000) |
| --- | --- | --- |
| Brazil | 1 | 7,857 |
| Nigeria | 2 | 5,660 |
| United Kingdom | 3 | 4,827 |
| Mexico | 4 | 3,597 |
| Turkey | 5 | 2,238 |
| Italy | 6 | 1,894 |
| South Africa | 7 | 1,770 |
| Colombia | 8 | 1,750 |
Based on its record engagement and market size, the region could be a pearl of great value in any operator's or bookmaker's collection.
Taking a closer look at the breakdown by country, who will generate the most GGR?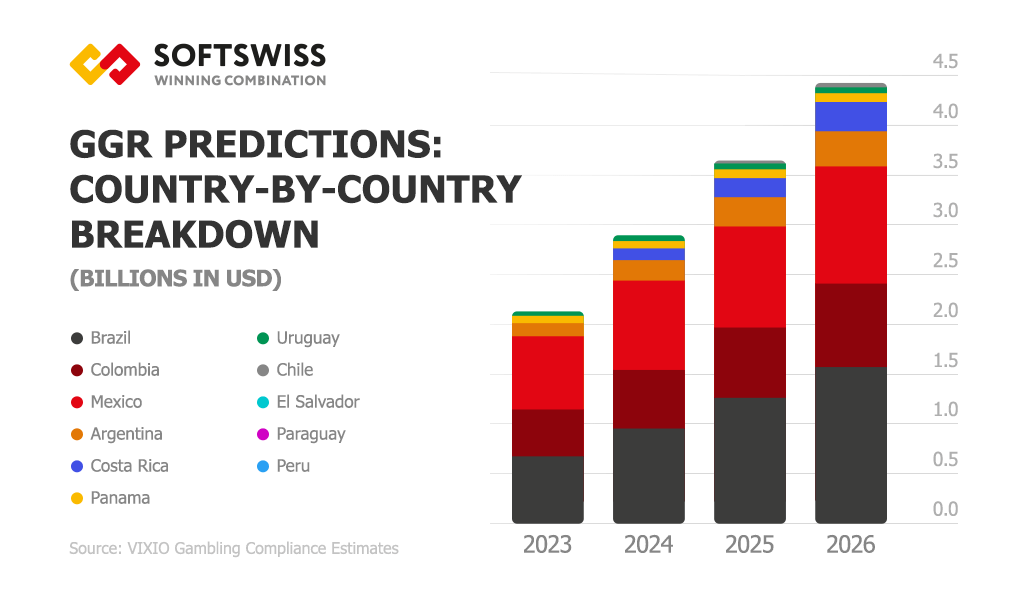 Colombia, one of the few countries in the region with transparent regulation of online gambling since 2016, cannot be written off. Their effort pays off, and, as per Statista, online GGR in the country has been growing since 2018, peaking at roughly USD 300mn in 2021. 
With a province-based government, Argentina inherits inconsistent regulation. The official position on gambling is still emerging in some provinces while allowed in others.
Online gambling content in Latin America
And here we come to the most interesting part of our review, the spark that always sets each region apart and gives a hundred per cent insight into its audience – game content!
Check out what types and categories of gambling activities are stirring the hearts of the Latin American audience. 
Sports betting
Latin America is unique in terms of the distribution of influence between casinos and sports. The usual pattern around the world is for a casino brand to be reinforced by a betting business. South America is a region where the reverse is true, and casinos play an important yet more supportive role. 
The love of sports is ingrained in the local population. It is a very strong cultural pattern, which accounts for the popularity of sports betting in the region. The drive, excitement and desire to be even more connected to your favourite team and to invest in the result of a match make the region an ideal place to start your sports betting business. 
What are the most popular disciplines for sports betting in Brazil? 
Football

Volleyball

Mixed martial arts and Brazilian jiu-jitsu

Basketball

Motorsport
From the graph below, it is clear that sports betting is on the rise not only in Latin America but in other markets as well. Sport has only increased in impact, so combining sport and casino within a single gambling offering benefits the operator in multiple ways – for promotion, audience outreach, and seamless interaction.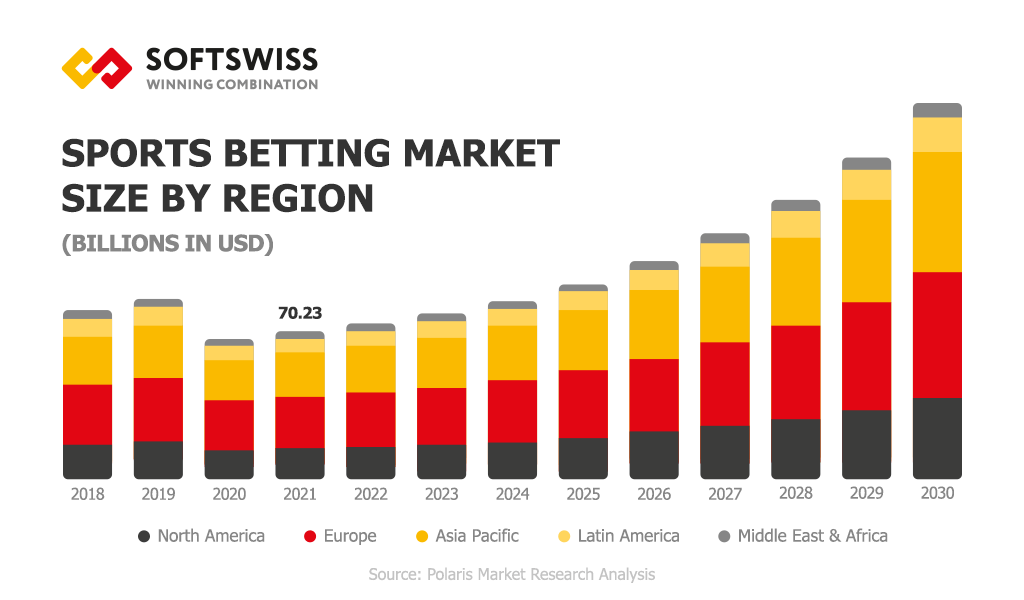 Slots, table games
Slots, in particular, have a large and dedicated following in the region, with many players drawn to the excitement and potential rewards of these games.
Table games, such as blackjack and roulette, are also popular among players in Latin America. These games offer a more traditional casino experience and are often favoured by more experienced players who enjoy the strategy and skill involved in these games.
Another factor contributing to the popularity of slots and table games in Latin America is the increasing availability of high-quality online casinos in the region. Many leading iGaming operators have expanded into Latin America in recent years, offering players a wide range of games and betting options.
Overall, the popularity of slots and table games in Latin America is a testament to the region's growing appetite for online gaming and entertainment. As the iGaming industry continues to expand in the region, it is likely that we will see even more players turning to online casinos to enjoy their favourite games.
Fish games 
Fish games are relatively new to Latin America's iGaming landscape, but they have quickly gained popularity. Fish games involve catching fish for rewards in an arcade-style setting.
How do fish games work? 
In essence, this is a type of game based on a random number generator. Fish games incorporate a competitive element, where players are gathered in a team and bet by firing bullets which are represented by stakes. Once the bet hits the target and 'kills' a fish (or another character), the player wins.
With origins in Asia, fish games have unexpectedly captured the minds and hearts of Latin American audiences. What accounts for this success? There are several factors. 
Unique gameplay. Due to the interaction and competition involved, the gameplay becomes more unusual and engaging for players. A special feature here is the presence of a 'big boss' level, where players can expect big winnings once they have successfully defeated the 'big boss'.

Diverse player demographics. Online fish games are appealing to many players, including those who do not normally engage in traditional online gambling games. The combination of concept and captivating gameplay makes the game feel incredibly immersive beyond anything the market has offered before.

Appealing graphics and audio effects. Besides its graphics, which complement the gameplay, it also has powerful audio effects that make the player feel fully immersed throughout.
The metrics speak for themselves. Let's look at the top countries in Latin America by the popularity of fish games provided by KA Gaming, one of game suppliers with an eye-catching portfolio of 500+ titles featuring 50+ fish games:
Argentina

Brazil

Chile 

Peru
In Asia, where the category is already well-established and generates significant volumes for operators, the average monthly bet count is from 12mn to 25mn. In Argentina, the number of bets alone counts 8.5mn. Based on statistics, we have every reason to say that the potential for fish games in this market has not yet been exhausted and will only grow.
The above arguments lead us to believe that integrating with fish game providers is a profitable investment for developing the LatAm market. The SOFTSWISS Game Aggregator offers games from KA Gaming and other dedicated studios in one API integration, solving the problem of adding relevant content once and for all.
Bingo and lottery-style games
One of the reasons for the popularity of bingo and lottery-style games in Latin America is their accessibility. These games are often simple to understand and require little to no skill or strategy, making them accessible to players of all legal age categories and experience levels.
Bingo, in particular, has a strong following in Latin America, with many players drawn to the social and community aspects of the game. Online bingo has also seen significant growth in the region, with many operators offering various bingo games and variants.
Lottery-style games, such as scratch cards and instant win games, are also popular among players in Latin America. These games offer the potential for instant payouts and can be played quickly and easily, making them a convenient choice for players on the go.
Overall, the popularity of bingo and lottery-style games in Latin America underscores the diversity and depth of the iGaming industry in the region. As online gambling continues to grow in popularity in Latin America, it is likely that we will see even more players turning to these exciting and accessible games.
Challenges in the Latin American iGaming Market
Payment processing can be particularly challenging in Latin America, where many countries have complex financial regulations and limited access to traditional banking services. This can make it difficult for players to make deposits and withdrawals from online casinos, and for operators to process payments efficiently and securely.
The market research and data provided by international consulting companies specialising in Latin America indicate that 54% of the region's consumers use digital payment methods, while 46% use cash. 
At the time of writing, among the popular payment systems in the region are PIX, Boleto and Pay4Fun. 
Payment processing is strictly state-controlled, with government-controlled systems predominating. Although the level of digitalisation is undoubtedly increasing, it has still been insufficient for a long time. The audience has the PIX system, a government-developed payment system that was not particularly convenient for customers. It was decided to authorise the development of the Boleto system, which was the entry point for players to secure payments in gambling in the region. The system has many useful features like round-the-clock operation.
Despite the development of the field in the region, all payments are still processed through banks only on weekdays. This creates some obstacles for operators, as it could be a point of fraud from players when they gamble with funds that are not available in the account, but it will become evident for the operator a while later when the bet is made.
Betting vouchers, which are sold offline, should also not be discounted. It makes the gambling process close to being completely anonymous, which increases the risk of money laundering and various fraudulent schemes. 
Opportunities in the Latin American iGaming Market
Despite these challenges, there are also many opportunities for operators in the Latin American iGaming market.
Mobile gaming
Mobile gaming is one of the brightest opportunities. 147 million people in Latin America are estimated to be mobile gamers in 2020, according to Statista. This figure is expected to increase by almost 17% by 2025, accounting for nearly 10% of global mobile gaming usage.
This presents a significant opportunity for operators to offer mobile-friendly games and platforms that can reach players on the go without keeping users tied to a computer to enjoy the gameplay.
Esports 
Another growing area of opportunity is esports leagues. Esports is a rapidly increasing online gambling market in Latin America, with many players and fans of games such as League of Legends and Dota 2. As more and more players turn to esports for their gaming entertainment, there is a growing demand for esports betting and tournaments.
Crypto
According to Chainalysis, Latin America is home to the world's 7th largest cryptocurrency market. A growing number of local people are becoming interested in digital currencies.
As a whole, crypto bettors represent a cohort of highly tech-savvy audiences that are not easy to capture. In light of the expected growth of cryptocurrency players in the coming years, it will be appropriate to expand gaming offerings for this market with a wider range of engaging and unique positions.
Final thoughts: the future of iGaming in LatAm
Overall, the iGaming industry in Latin America is poised to enjoy significant growth in the upcoming years. With more countries legalising and regulating online gambling, there will likely be a surge in demand for online casino games and sports betting. 
Despite this, there are many challenges the industry will have to overcome, such as regulatory hurdles and competition from land-based casinos. To succeed in a perpetually dynamic market, iGaming companies must be innovative, customer-centric, and ready to pivot on a dime.
2023 appears to be a reasonable time to enter the iGaming market in LatAm and capitalise on the region's bright and promising future with a powerful partner, proper investment, and strategic planning.