Starting an affiliate program is the most reliable marketing method to help a casino or a sportsbook brand achieve maximum exposure on the digital scene. Affiliates help to attract potential players to online gambling websites.
While there are different ways to promote online casinos or sportsbooks, the affiliate marketing business has deserved its status as the most effective iGaming marketing model. Read on to discover how to start a successful affiliate program for your iGaming project based on our experience in the performance marketing domain.
Business analysis and goal setting
The first and most important thing to start with is an analysis of your overall business performance. What advantages will such a step bring? It allows operators to align current business opportunities and goals with available resources.
In terms of strengthening an iGaming business, affiliate marketing is a potent way to grow your audience and raise brand awareness. While affiliates are a major traffic driver in the industry, it is in the interest of operators to strike a balance between affiliate marketing and other promotion methods that bring relevant traffic at the best value.
Even though business analysis is done almost entirely by an iGaming operator, there are general aspects worth considering in any case:
Current business status (number of brands handled, statistics, current audience, etc.)
Short- and long-term goals, as well as new markets for expansion. It is vital for identifying priority geo and other target audience portrait indicators.
Financial KPIs and targets. At this stage, determine how many players the brand can attract and whether spend versus ROI is competitive enough. Such calculations help operators spread the audience outreach plan across all available promotion channels, including affiliate marketing.
Scaling plans. This includes any plans for business expansion, the introduction of new brands, and the ability to manage them within one affiliate management platform.
Conceptualising brand promotion
It is an all-important stage that involves establishing contact with affiliates and predetermines the relationship with both partners and players. Creating a conducive environment to attract target players entails a few things:
Building and reinforcing a credible brand reputation. This is a critical point in terms of affiliate partnerships, as both players and affiliates expect fair and transparent terms.
Transparent and satisfying player experience. The point applies not only to players but also to affiliates: both the casino and the affiliate profit from players. The last thing a partner wants is to refer players to a resource where they are likely to be cheated.
Transforming your values into promotional messages for partners and players. An impeccable reputation is an excellent foundation for creating a unique brand proposition for players and affiliate partners.
At the same time, do not lose sight of how this affects return on partner investment. Affiliate commissions should be attractive and motivating, while at the same time not detrimental to the business. A decent affiliate management solution is flexible enough to adjust reward terms based on business requirements.
As far as player promotion is concerned, it is also worth paying attention to. No matter how loyal the affiliate is, if the offer is not relevant, it will be nearly impossible to engage players. Put your ideas to the test, create new campaigns and bonuses, run themed tournaments and measure results. Trial and error are your best coaches here.
Choosing affiliate software
If there is anything you cannot do without when starting an affiliate program, it's choosing an affiliate marketing software provider. The right software offers the tools needed to make your affiliate marketing efforts more cost-effective for both sides.
What should operators check when choosing affiliate software?
Affiliate commissions
Various reward options play a starring role in casino affiliate programs. Having multiple rewards options means a business has more freedom to offer financially advantageous and enticing terms for affiliate partner cooperation.
Modern affiliate management software will not only provide the standard set of Revshare, Hybrid and CPA deals. State-of-the-art solutions let you build unique commissions by combining various conditions and qualifiers, and setting up multiple thresholds with special reward types.
Payments processing
Not all affiliate software can boast of having integrated payment processing, forcing operators to seek alternative third-party payment services to pay their partners.
Globally, gambling affiliate programs allow for two options:
Handle payments outside the affiliate software solution. The software only serves as data and traffic tracker.
Make payments directly from the affiliate tracking platform.
If affiliate payments are important to you, pay attention to the payment processing options the affiliate platform offers. Satisfying relationships with partners are dependent on prompt payments.
Making payments directly from the software solution under the platform provider's supervision is arguably the more convenient option. There is no need for operators to rely on third-party payment services.
Although the function is valuable for running a successful affiliate program, it is not common to find affiliate solutions that come with it. Affilka, for instance, provides its clients with all the benefits of built-in payment processing to streamline the transaction workflows for operators.
Multiple affiliate campaigns
Before starting an affiliate marketing program, ensure that the affiliate system allows affiliates to create multiple affiliate campaigns for different traffic sources. In this case, an affiliate campaign refers to a partner's promotion in a certain traffic channel (e.g., social media). The partner uses specific banners and texts which engage the audience to click on the referral link, allowing tracking of the campaign's success.
Partners appreciate having multiple media formats and resolutions to work with and often work across various channels. Having software that caters to this need helps convince affiliates to choose you as their partner instead of the next gambling affiliate program.
Multi-brand management
Operators with multiple gambling brands should choose a solution that enables tracking across several brands. At the same time, as opposed to having blanket settings for all projects, it should allow you to address each entity individually. Creating brand-specific commissions, assets, and reports makes more sense instead of a one-size-fits-all approach. That is why the affiliate software of choice should make it possible to manage affiliate marketing for several iGaming brands under one account to see the full picture.
Admin permission management
An affiliate marketing software must grant extensive management control. The software should provide multiple administrator roles and ensure transparent accountability for your affiliate managers. Ideally, the affiliate marketing software platform can assign role-based access permissions to ensure security.
Multiple affiliate levels
Let's say the affiliate software provider goes the extra step. If so, operators will likely be able to set up affiliate tiers, so affiliates can recruit other affiliates who will generate additional traffic for their gambling websites. The ability to have a hierarchy of affiliates is called a 'sub-affiliate system'.
Both parties benefit from this:
Operators get improved affiliate recruitment: partners recruit other partners to increase their rewards.
Affiliate motivation increases: partners focus on bringing in affiliates who drive traffic, so they can earn more as a master affiliate.
Define affiliate rewards
When the preparatory work is complete, and the best affiliate program solution is selected, the time has come to decide on commission structures and customise them.
iGaming operators will likely set individual deals with each of their partners. Even so, there should be a basic set of terms for everyone, which can be announced on the website. In addition to this, you should form a motivation system – bonuses or special conditions for affiliates that will bring outstanding results.
Struggling to define affiliate rewards? Here is a comparison of the most popular types of commissions in the table below.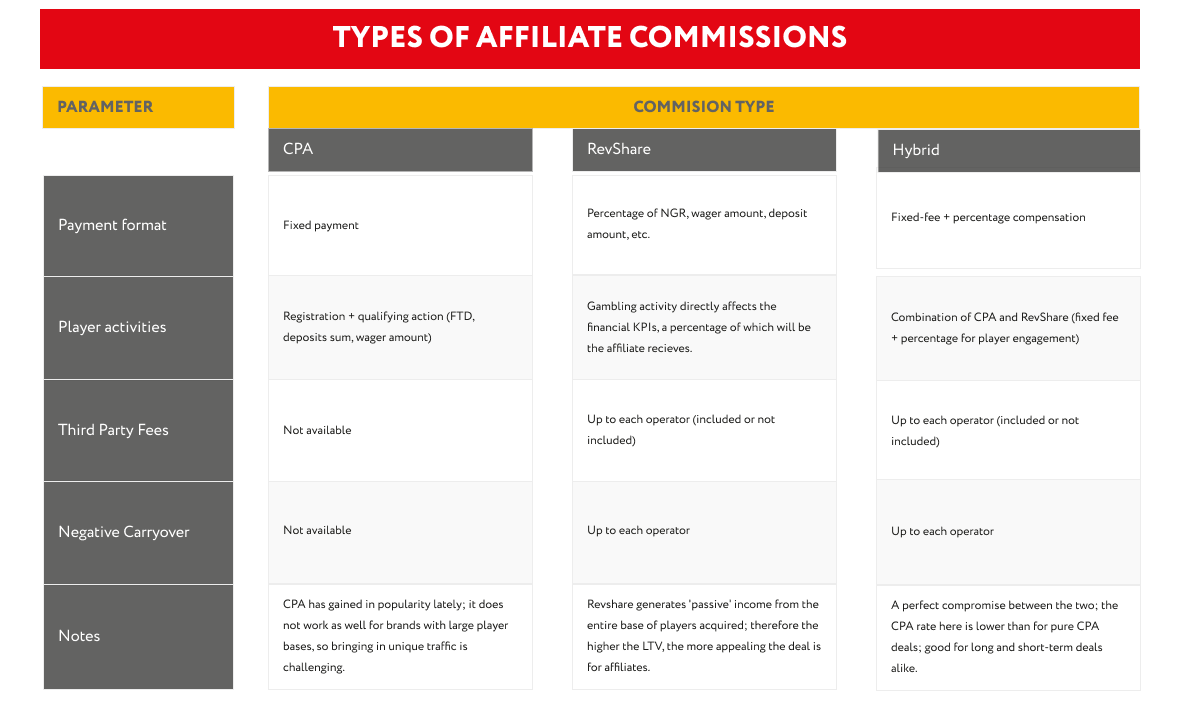 A reasonable commission is a huge advantage, but having a good reputation is just as vital. Still, you also need to build a positive image: be honest and fair to your affiliate partners, make sure to keep your promises, and respond to any queries they have.
Competitor analysis
Finding affiliate software is only a part of building an affiliate program. The next step is actually hiring affiliates. At this stage, conduct a competitor analysis. The operator should study and analyse the most successful market players.
Start with studying the competitor's landing page to understand how they attract affiliate partners. Focus on what they offer for affiliates and what terms and conditions they propose. It is also important to note which affiliate reward plans successful market players use. Consider where, besides the websites, the competitors promote their affiliate programs.
Prepare marketing assets for affiliates
Create all the necessary marketing materials, including email templates, videos, banners, and texts for affiliates. A partner can and most likely will tailor the content, but an operator is responsible for determining the basis of that content.
Along with preparing marketing materials, the operator should start building a team that will work with affiliates. Hire and educate a team that will perform the following tasks:
Find and recruit affiliates
Keep the affiliates engaged in the program
Respond to affiliate questions, track their effectiveness
Negotiate terms with high-volume affiliates
Inform them about current and upcoming promotions, etc.
Find affiliates
Recruiting affiliates is a process that requires an exciting affiliate program and reaching out to the right partners. Be sure potential partners can find your affiliate program: maximise your digital presence.
Place information on your website. Place a link on your website or create a dedicated affiliate landing page so potential partners can find out more about your offer, conditions, etc.
Join affiliate forums and communities. They allow operators to reach partners inexpensively since affiliates visit these websites in search of services to promote.
Use social media. Affiliate outreach via social media can be a useful tool to attract affiliates and retain their loyalty.
Participate in affiliate conferences. Trade shows and conferences are perfect venues for networking. Whether you are a presenter or a participant, iGaming events like iGB Live!, London Affiliate Conference and SiGMA Affiliate Conference allow operators to get a closer look at potential partners.
Creating a profitable affiliate program: the upshot
After the affiliate program is set up, the operational phase begins. At this stage, operators aim to get results, establish an ongoing outcome analysis, and build productive relationships with their affiliates.
The operational phase covers the following areas:
Tracking and analysing affiliate performance regularly
Assisting partners in resolving issues
Building trust and fairness with affiliates
Organising on-time reward payments
The steps above will assist in launching a successful affiliate marketing program that generates substantial revenue and provides a steady stream of quality traffic to the iGaming project.
Naturally, an essential part of the affiliate program's success lies in the software solution that powers it. Affilka is an affiliate marketing platform that helps manage partners, track their ad campaigns, optimise marketing expenses, and reward affiliates. Through Affilka's ongoing innovations, distinguished customer service, and absolute flexibility in all matters, clients can leverage the affiliate platform to its full potential and constantly upgrade their affiliate marketing programs.