Sportsbooks are getting increasingly popular, with nearly 245 thousand employees working at over 25 thousand sports betting business organisations across the globe. The global sports betting market earned $231 billion in 2022. It is constantly growing and not showing any signs of slowing down.
Modern technologies revolutionised betting and boosted the industry's reputation, attracting more and more engaged gamblers monthly. Online sports betting is now accessible to practically anyone and anywhere. Players can place bets from their PC, laptop, or any iOS and Android mobile device. An intuitive website with a simple but eye-catching design is at least 50% of any sportsbook's general success.
Creating and running a sportsbook website is not the easiest task – there are a lot of things to consider when it comes to design choices alone. Proper planning and taking things one step at a time is crucial for success. In this article, we'll explain how you can make your sportsbook business thrive by creating a betting website that will attract visitors and retain existing players.
Finding your niche
What is the most profitable sports betting niche? This is a difficult question to answer because every gambler has their preferences.
If you've decided to become a bookie and are wondering how to start a sports betting website from scratch, the first step is to narrow down your focus by selecting the sports you want to include on your website and the types of bets people will be able to place. Choosing only a few most popular sports would be beneficial at first, especially if your budget is somewhat restricted.
By focusing on at least five popular sports, you will undoubtedly draw a large enough audience of active gamblers who will be willing to place bets on your website. Here is a list of the sports that people tend to bet on more often and that you might want to think about including.
Football
Football is, without a doubt, the most played and viewed sport in the world. It is also one of the most profitable sports to bet on for multiple reasons.
There are big football events like the UEFA Championships and the FIFA World Cup tournaments happening every year, not to mention hundreds of national cups and youth qualification matches all year round. More events equal more bets. 

Famous football teams usually have a huge following. Fans are invested in analysing their favourite team's performance and placing bets accordingly.

Sportsbook websites tend to give a lot of betting options when it comes to football. Apart from predicting the full-time result, it is also possible to bet on other aspects of the game, like:

half-time result 

amount of goals in total

corners

goal lines, etc.
Basketball
Basketball is another extremely profitable sport to bet on. Just like football, certain basketball events like the NBA league games get a large following, especially in North America. This is why most sportsbook websites make sure to incorporate betting on a variety of basketball games and tournaments.
There are three most popular types of wagers in basketball that you can include on your betting website:
Money line (the most basic match outcome prediction – who will win the game)

Point betting (predicting the total amount of points earned by one or both teams)

Point spread (the difference in earned points between two teams)
Tennis 
Tennis is another major sport for wagering, which is not surprising given the number of tennis events held each year. In 2022, the International Tennis Federation  held exactly 1,054 tournaments with over 90 thousand individual matches. With such a schedule, there is always something to bet on in tennis.
When it comes to the types of bets that can be placed in tennis, there are 3 most popular ones:
Outright betting – predicting the winner of the match

Point betting – predicting the number of points a single player/team will acquire during the match

Games/sets betting – predicting the number of sets or games in one match
Esports
The rise of esports popularity in recent years created a whole new and rather large betting niche. Esports tournaments like ESL ONE, League of Legends Championship Series, and the International championship are now more popular than ever. The niche is so profitable that certain websites specifically focus on esports betting. 
One of the most appealing aspects of esports is the variety of game options available. Currently, 126 games are played in different esports tournaments, with Counter-Strike: Global Offensive being the most famous one. 
The most common types of bets in esports depend on the type of game, but can generally include match line bets (predicting the winner), top player bets, and over/under bets.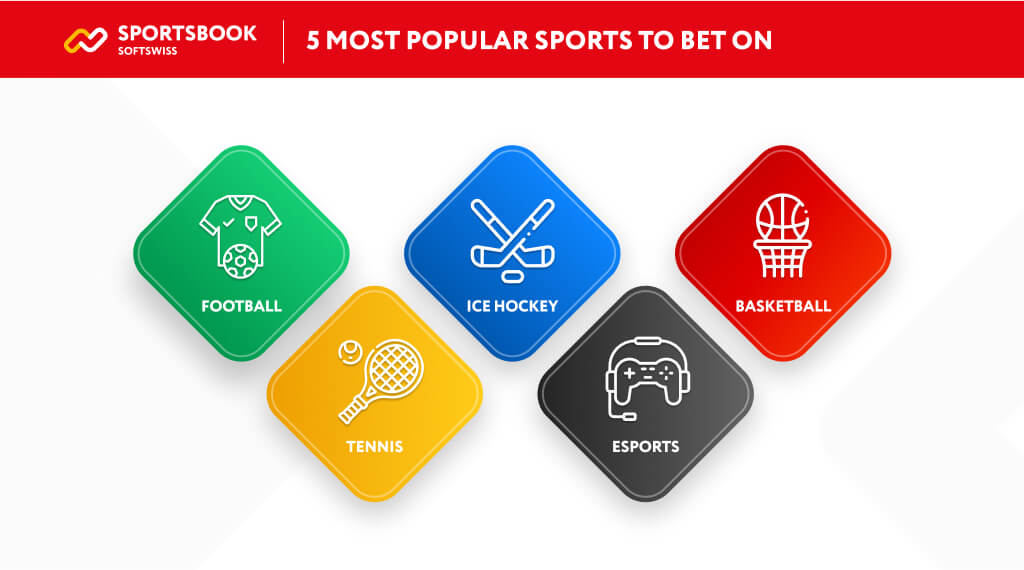 Obtaining a licence
Just like any online gambling business, a sports betting website needs to have a licence to be officially authorised. You must obtain a licence from the Gambling Commission or another relevant entity in your area of operation. Note, that this is a lengthy process.  In general, the procedure of obtaining such a licence on your own might take a few months from the initial application. 
Make sure that you choose the jurisdiction very carefully. There are two types of gambling licences that you might get:
International– Malta, Curacao, Kahnawake, etc.
As the name suggests, such licences allow you to operate as an international gambling entity and target a large number of GEOs.
National – Isle of Man, Gibraltar, Nigeria, etc.
National licences permit you to legally operate in a particular country. Keep the following points in mind when deciding on a jurisdiction:

The cost of obtaining a licence (may vary from a couple of thousand dollars to a six-figure number)
Yearly fees and/or taxes
Term of duration
Managing legal issues on your own can be extremely challenging, which is why a White Label Sportsbook Solution might be a much better option. Essentially, a White Label Solution means that you will not need to worry about licences, payment methods, and integrations. It makes the process of creating a sports website significantly faster and easier.
Developing a website
How to create a betting website that attracts new users and is visually appealing and functional at the same time? 
By being ready to invest a large portion of the budget into developing a clear and simple site design (UI design) as well as a user experience that allows clients to use your website comfortably on any device (UX design). 
To achieve that, you will need to hire a professional UX/UI designer and a frontend/backend developer or use a one-stop solution sportsbook platform that can be customised to your liking. 
UX design
User experience is the most important aspect of website design. You need to make sure to create an intuitive website that is easy to navigate for any user. UX design of such a website would consist of 4 steps:

Project scope
Defining the goal of the project and a user persona. Roadmapping.
Research and analysis
Conducting competitive market and user research, analysing the data.
Wireframing and prototyping
Creating a simplified black-and-white version of the website layout for each page.
User testing and final audit
Many things that can go wrong with UX design, from an unorganised layout with irrelevant content to poor navigation and missing information. Here are the most important points to consider for a better user experience when designing a sportsbook website:

Clear and intuitive information architecture

Dedicated pages for each type of content

Intuitive navigation pattern (Example: Type of sport – Country – Competition/league – Fixture – Type of bet)

Popular sports and championships showed above the least popular ones

Relevant content 

Clear instructions and betting tips
UI design
User interface design is essentially applying functional UX design and branding to create the finished product design. Once you have your UX wireframes and prototype, you need to think about branding. 
Branding includes three main components:
Logo
It is a symbol, text, or a combination of the two through which people will remember your brand. It needs to be minimalistic enough but unique to stand out among competitors.
Brand colours
A combination of neutrals (black, white, cream) with a bright accent colour (green, blue, yellow) always works. A good tip is to never use pure black colour but to bring it down to a dark grey shade instead.
Typography
Choose a combination of fonts that are perfectly readable and go well together. Websites like Fontjoy can help you to create perfect font pairings for free.
Graphic elements
This category includes illustrations and 2D or 3D objects that will appear throughout your website.
After you have figured out your branding, the UI designer will turn raw black-and-white wireframes and prototypes into a finished project design. To turn it into an actual website, it needs to be coded by a web developer. When that's done, you can get a memorable domain name and launch the website.
Including extra features
Betting website features can be classified into two categories: for visitors and for owners. Website owners need to be able to view important site statistics, see revenues from each wager in percentages, and access a customer database. On the other hand, users come to the website to follow sports games and place bets. 
Wouldn't it be even better to create a betting website where a user could also watch sports matches online in real-time, learn new betting tips, and play fun casino games? Those extra features have the power to turn your simple sports betting website into an online gambling and information hub that would fulfil all users' needs at once.  
Live broadcasts
One way to make your sportsbook website more appealing to users is incorporating live sports broadcasts. Being able to watch matches directly from the website while placing bets will undoubtedly help you gain a devoted client base.This also creates a great marketing opportunity, because you can collaborate with event streamers: you promote them by attracting viewers to their broadcasts while they mention the name of your business or share the link to your website with their audience.
Betting tips
Bring more value to your website visitors by creating a designated information hub where you can:

Not all website visitors are going to be seasoned sports bettors at all. Most of them might want to try their luck and make their very first wager. Teaching them  how to do it has the potential to turn them into loyal customers in the future.

Online casino games
Do you want your website to operate as a standalone sportsbook or be integrated with an online casino? Sports betting and online casinos go hand in hand, which is why most online gambling businesses chose to include both. Once you already have a gambling licence – it is just a matter of integrating online casino software and setting up games.The most popular online casino game types include:
Slots

Roulette

Baccarat

Poker

Bingo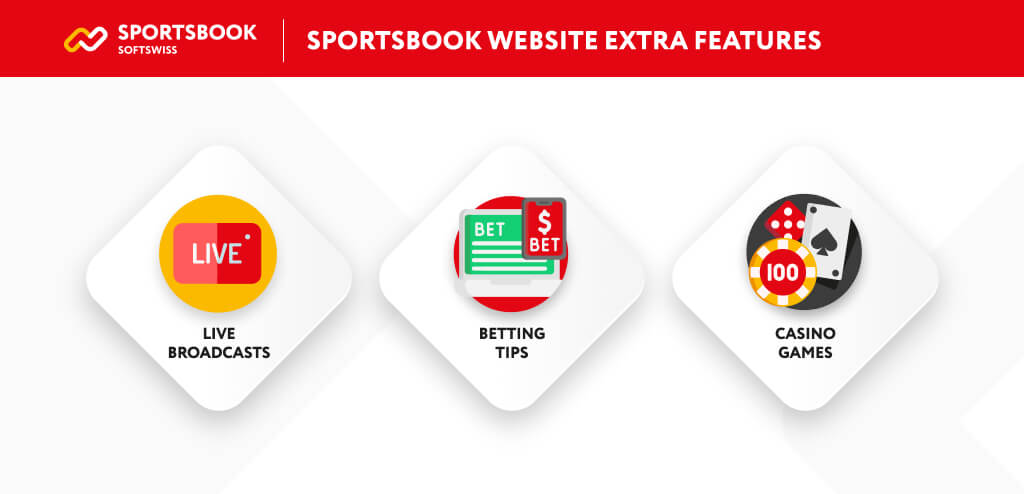 Bonus: jackpot campaigns
Including jackpot campaigns expands any sportsbook's functionality to a new level, boosting the website's gamification aspect with exciting jackpot mechanics and bonuses. By catching the audience's interest through fascinating narratives and new bonus opportunities, the introduction of jackpots will improve player retention and, as a result, your sportsbook's total revenue.Jackpot campaigns can be easily introduced on your sports betting platform through integration with an aggregator. For example, the SOFTSWISS Sportsbook solution comes with our Jackpot Aggregator already integrated into the platform, which allows operators to run jackpot campaigns from the get-go.
Choosing payment options
One of your top goals should be choosing the best payment system for your sportsbook. No gambling business is completely protected from fraud and money laundering threats. On top of that, you need to think about your clients – they deserve a fully transparent and secure payment system with a variety of payment options to choose from.
There are three aspects you must consider when choosing the right payment provider:
High security and fraud risk management

Low fees and fast transactions

Fiat and cryptocurrency payment options
The access to different payment methods and options is a necessity for every successful sportsbook website. Currently, the most used online currency deposit methods are:
Debit/credit card
Users should be able to deposit and withdraw funds using any VISA or Mastercard debit card. This is still the most used payment method among online gamblers.
Bank transfer
Bank transfers are not as popular, however, there are still bettors that use them regularly.
E-wallets
A lot of people use e-wallets nowadays, so make sure that your sportsbook website accepts payments from different e-wallet se
Cryptocurrency payment options
It is very important to include crypto payment options: different cryptocurrencies (Bitcoin, Ethereum, Tether, Dogecoin, etc.), as well as crypto wallets (Coinbase, Exodus, Electrum, etc.)
Marketing and advertising 
In the sea of hundreds of big and small sports sportsbooks, how will new customers find your website? A strong marketing strategy is an absolute must, especially if you are just starting and your sportsbook is a new name in the industry.
How do you advertise your betting website? There are several options that work best together:
SEO
Proper search engine optimisation works like magic by constantly driving leads to your website. In order for it to show great results, it needs to be done professionally. A comprehensive SEO strategy includes many steps like adding the website's domain to your Google Search Console account, gathering relevant keywords and using them throughout the website, building backlinks, etc.
Social media
Use Facebook, Instagram, Twitter, Discord, and other social media platforms to tell people about your website. You can use a combination of targeted paid advertisements and general social media presence with regular content posting for better results.
Email marketing
A lot of businesses overlook this brilliant marketing option, which can become a fully automated client engagement and retention tool.
Affiliate marketing
More and more businesses are implementing affiliate management systems to use customers and clients as marketers. The main idea is that customers and partners can recommend your website on their platforms for a financial reward or a mention in return. Platforms like Affilka make affiliate marketing easy by providing a full solution for expanding your affiliate network and effectively marketing your online gambling business.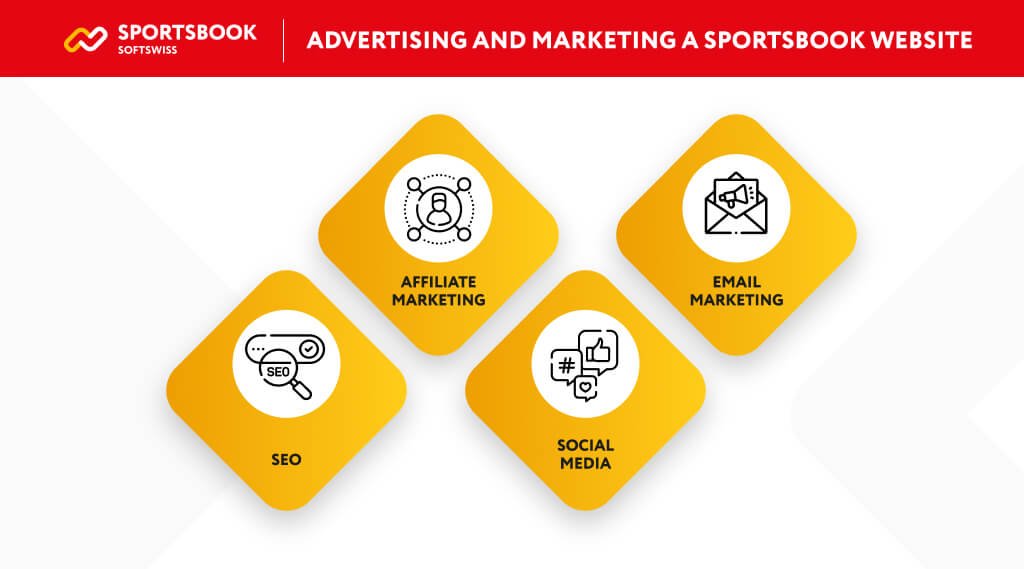 Conclusion 
Facing a task to create your own sports betting website, there are a handful of things that can go wrong. Here are the top five common mistakes to avoid in the process:
Poor UI design – difficult-to-read fonts, bad colour palette, etc.

Bad UX design – navigation problems, busy layout, etc.

Complicated and/or long registration process

Missing payment options

Lack of customer support
If you want to launch a successful sportsbook website without having to deal with all possible issues and problems all by yourself, SOFTSWISS is here to help! With over 10 years of experience in the online gambling industry, we have helped hundreds of online betting businesses reach their full potential and make a profit while bringing value to clients.
We can help you set up your sportsbook website, as well as seamlessly integrate it with an online casino. We offer two Sportsbook integration methods: a standard Sportsbook integration and a new innovative Game Aggregator integration (both via API or iFrame). 
SOFTSWISS is all about great service and full security, which is why iGaming and online betting businesses trust us. We are always here to turn your dreams into reality and help you build a thriving and highly profitable sports betting business.