Sports betting businesses are gaining traction. Most of the biggest names in iGaming have noticed that when casinos and sportsbooks are combined, project performance and user engagement skyrocket. Casinos strengthen betting businesses and sportsbooks complement casinos becoming a winning combination in the iGaming arena.
Why is now a particularly good moment to become a bookie? Because the market size is increasing every year: according to some forecasts, the online gambling market will cross the $110 billion mark by 2026. Equally important, sports betting takes up about 30-40% of the market. The stakes are rising. 
Having aligned interests and favourable statistics, the only question remains: how do you start a sportsbook? We share the answer in our new high-level roadmap for those who plan to launch a successful sportsbook.
Sportsbook software selection
Once the decision to start a sportsbook has been made, it's time to choose professional software. Bookmakers have two basic options: 
To develop their own platform

To buy a complete solution from a supplier
Creating your own sportsbook platform
Operators who decide to start development from scratch should have exceptional experience in operating an iGaming business and complete knowledge of online gambling software requirements. When operators come up with their own solution, they are responsible for all aspects of running a sports betting business, including a full team of developers, managers, risk analysts, etc. 
Creating an in-house solution is a huge financial and resource investment, which does not necessarily lead to expected results. Getting the solution to market requires at least a year's preparation or more, depending on the case.
Purchasing a turnkey solution
If an operator possesses a strong background in iGaming, platform development can be a good way to scale the business. However, for the first sportsbook, it is better to choose a proven sports betting solution from a reliable provider. The easiest and least expensive way to gain expertise in operating a sportsbook is to use an off-the-shelf solution.
Why is it beneficial?
Cost-effective.

Operators avoid costly development and maintenance of separate teams as well as long and expensive negotiations with payment systems and data providers.

Fast launch

. The time to market for the SOFTSWISS Sportsbook, for example, the count goes to weeks. The creation of the sports betting software core can take at least a year, without factoring in other preparations.

Reliable.

Choosing an off-the-shelf solution means you are buying more than software; you are getting a team, a history of excellence, and vetted technical know-how. 
Therefore, before becoming a bookie, choosing a reliable software supplier is crucial. How can you choose the right partner?
Check the solution customisation. Ensure that you are not just sold a template solution, but a flexible platform that can adapt to your needs.

Consider the access to supporting services. A player support service, designers, risk management team, technical specialists

–

these people are directly responsible for your reputation in the market. It's handy when the supplier takes care of this.

Mind the price-to-value ratio. Choosing an off-the-shelf solution saves the operator a lot of money and time, so it makes sense not to select the cheapest solution, which could lead to overpayments and reputational damage in the future. 
Finding a data provider
Sportsbooks cannot function without data providers – no odds, no wagers. It is essential to choose a reliable sports data supplier who can help online bookmakers capture market share and avoid costly risks. 
Choosing a data provider for sports always involves risks. If you decide to become a bookie without previous experience and choose a non-professional provider, you may encounter incorrectly calculated odds or delayed calculations, leading to financial and reputational losses.
How to choose the right sports data provider?
Data integrity and accuracy.

Here you risk not only time and money for data verification, but also the trust of bettors if wrongful information gets to the platform.

Methods and formats for delivering data.

Most data providers offer a variety of formats and ways of implementing this data –⁠ choose the one that is right for the platform and business as a whole. Make sure the documentation is clear and transparent – it will determine how easy and cost-effective the integration itself will be.

Risk management.

The tool enables operators to identify and manage potential risks. This is an essential component of a successful business and helps to make decision-making processes transparent and supported by facts. Unless the data provider has a risk management team and solution, the operator will have to form their own.

An opportunity to stand out.

Audiences value data exclusivity. There is the option of generating unique sports data yourself, but this will add to the product's price, as will the development time and support efforts. This is why choosing a provider that gives you exclusive sports data for your bookie business is reasonable. Exclusive events and data will allow you to make an offer your players won't refuse.
If a bookmaker starts a sportsbook from scratch, the integration with a data provider falls on the operator (the integration is often a fee-based service). The contract is usually filled with caveats, which can be confusing to even experienced operators and can result in severe costs. After signing the deal, experienced operators find that it takes a while before the data from the provider can be actually used.
The SOFTSWISS Sportsbook works with several data providers, including e-sports providers. We have our own strong risk management team, and take full responsibility for data quality. Our clients can focus on growing their businesses without being distracted by operational duties.
Website design
Modern iGaming cannot overlook the importance of web design, because the front-office is the first thing players notice when they enter a sportsbook. All players have different priorities: some come for the availability of certain events and betting in crypto, other players seek out unique bonuses. Design alone is not the primary criterion, but a poorly designed website may serve as reason to change bookmaker.
What kind of design would be good for a betting platform? Fast and intuitive – a functional one. A user-friendly interface implies simple and intuitive navigation with perceivable accents. If a bettor takes too long to find the "register" button or the bonus section, they will quickly leave the site. Sorting and filtering options will enhance the bettor's experience.
Second, the design should be relevant to the niche by all means. Colour combinations, illustrations, and an appropriate font for the company name and slogan contribute to the overall look and feel of the iGaming project. 
Third, ensure that the site meets business and marketing objectives, and is eye-catching and engaging as well. If bettors visit the site, the action they are looking for – registration, betting, current events – should be clear and properly accentuated.
Finally, but most importantly, pay attention to mobile versions. A majority of players (75%) use smartphones for gambling. A user-friendly and adequately adapted mobile website is particularly important for bookmakers, as important sporting events can catch bettors away from their computers. Today, failing to have a mobile version means losing out on a large segment of your audience.
Those who develop their solution from scratch, as well as those who choose off-the-shelf solutions, should consider the above criteria. If you choose an off-the-shelf solution from a supplier, pick one where the design can be modified to meet your needs. 
We offer custom-designed solutions based on statistical analysis, research, and experience. Also, operators can implement their own designs via an API. The SOFTSWISS team is always willing to go the extra mile to make the website design  stand out.
Legal setup and payment integrations 
One of the major stumbling blocks to becoming a bookie is setting up the legal infrastructure. Traditionally for all iGaming businesses, the issue of choosing a jurisdiction and licence becomes the most difficult and expensive part. It depends directly on the operator's business objectives, the audience, and the countries the business is targeting.
Obtaining a licence on your own requires:
A professional team with strong legal expertise and background in iGaming

Time (getting a licence may take from one month to a year)
There are similar issues regarding payments here: long and exhausting negotiations with the payment service providers (PSPs) can be the norm. A few connected systems are not enough: for a good player experience, it is important to offer a variety of payment options, e-wallets, and cryptocurrencies. Players should have the option of choosing how to deposit and withdraw their money.
Also, to run a sportsbook, operators should determine which payment systems the target audience will need. It depends directly on the markets the sportsbook will serve. Such details are important for players and require the operator's attention and involvement.
Investing in a team and long bureaucratic procedures deprives bookmakers of the most valuable resource: the ability to enter the market quickly and test their strategies. In many cases, it is more profitable to take a white label sportsbook solution that comes with a set of licences and payment methods already in place and delegate the legal hassle to your solution provider. Complete off-the-shelf solutions involve legal infrastructure and support from lawyers, which saves bookmakers time and money.
Sports events and sports variety
Probably the only instance in which 'the more the better' rule works without fail. To be more specific, in order to start a successful sportsbook, it is necessary to offer betting on all the top sports. Current examples include: 
Football 

Tennis 

Basketball

Ice hockey

Volleyball

Handball

Golf

Rugby

Boxing (MMA)

e-sports
For those looking to become a bookie, the last point requires special attention. Leading esports events such as The International for Dota 2 and the Majors for CS:GO draw hundreds of thousands of views. Offering esports events and thematically-related bonuses will pull in a good number of fans, boosting sportsbook traffic.
Overheads
The costs will depend directly on whether bookmakers choose to develop a product from scratch or rent an off-the-shelf solution. In most cases, a white label solution implies a certain set of services (e.g. the software itself, initial set-up, technical support, for example). Those who are interested in developing their own product will have to rely solely on themselves and their expert team, which will require significant investment in hiring and training.
Since it is impossible to provide a precise and universal estimate to start a sportsbook, we offer a generalised cost comparison for an off-the-shelf solution and a custom development.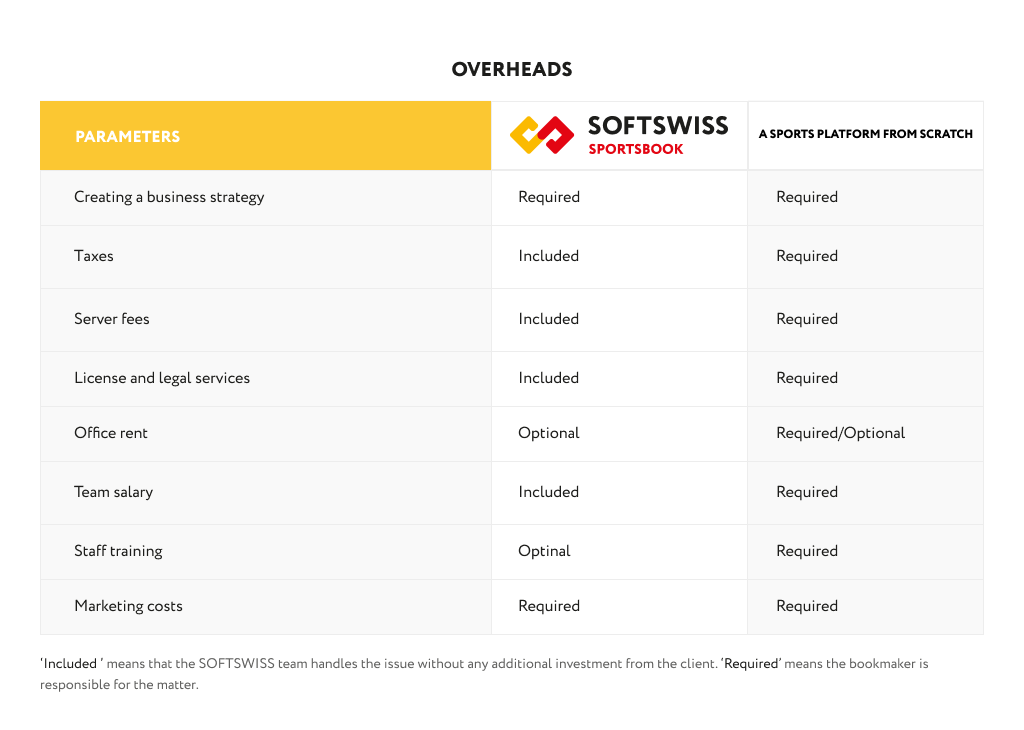 Developing marketing and bonus policies
The previous steps made your sportsbook a very attractive proposition but you still need to get your players onboard. Hence, it's time to start creating a marketing strategy, particularly positioning. This step includes: 
The positioning statement (a brief statement of the brand's values)

A critical analysis of competitors and the current market position

The development of a unique selling proposition 
In order to handle both external and internal marketing effectively, a business needs a  fully experienced marketing department. Managing PR, SEO, tournaments, and bonus policies requires a very experienced team. The team behind the SOFTSWISS Sportsbook is well-versed in shaping a brand's strategy in a continuing effort to enhance, update and complement your market presence. Regardless, attracting traffic to the project remains the operator's responsibility.
Anyone who has ever placed a bet on a sports event knows how rewarding bonuses are for players. Hence, the bonus policy of the sportsbook has a significant impact on the bettors' choice of a betting site. Pay attention to the types of bonuses you present, offer themed tournaments, think of ways to integrate individual rewards into your players' sports betting journeys. 
A friendly reminder: bonuses create good engagement, do not forget about the powerful anti-fraud team behind the sportsbook. Obviously, the larger the brand, the more bonus hunters and other scammers it attracts. Fraudsters also pay increased attention to newly launched projects. To avoid losing money and reputation to fraud, choose a software provider with strong expertise and experience.
Almost last but not least is marketing promotion. With a fast, stylish, functional website and a well-constructed bonus system, bookmakers already have a solid foundation for promotion. If you want to make the market aware of your new sportsbook, you'll need more media space at first, so a team usually plans announcements, interviews, press releases on the main iGaming forums, reviews, and news platforms. 
Besides SEO, banners, contextual advertising, and affiliate marketing should also be used. This is the core of iGaming. Sportsbook promotion involves certain subtleties and continuous restrictions from search engines, making affiliates even more influential every year. Choose the software provider that integrates with affiliate marketing solutions and takes full advantage of it. 
Starting a sportsbook: key takeaways
The chances are that any successful iGaming brand you can think of

combines

both casino and sportsbook

services

with a single seamless wallet for both. This winning combination better covers the needs of the audience, so always consider the brand expansion perspective when launching your sportsbook. 

Having already touched on

the team

many times, mentioning it again is also not superfluous. It takes a lot of investment and sustained expertise to construct a complete team from scratch. Instead, trust a strong ready-made team and gain experience from them. The operator decides which tasks can be handled by

their

team and which should be delegated.

Consider

ways to develop your brand

from the very beginning. Invest in VIP support, gamification, and AI tools. SOFTSWISS values innovation and high-quality customer service. The brand's product portfolio offers customers the benefit of a one-stop solution in terms of software, payments, marketing tools, and support.
Explore the sports betting industry
Opening a sportsbook is a serious endeavour and takes time, research, and preparation. It is not the website or the bonuses that determine the sportsbook's success, but rather the competency of those who support it. 
The experience of bookmakers shows that reaching out to a full-service team skilled in all stages of iGaming brand management is the best way to start a sportsbook. Our Sportsbook team is ready to support you on your journey.