Brand
Brand essence
Mission
To improve the entertainment and gambling landscape through technical innovation.
Objective
To create a leading innovative product in the entertainment industry that attracts most players and empowers operators to succeed in their business endeavour.
Positioning
SOFTSWISS inspires confidence, security, and trust by supplying innovative products and solutions that improve business efficiency.
iGaming expertise, reliability, and security of products and innovative solutions.
SOFTSWISS creates reliable and secure business solutions, which win in the highly competitive market and deliver value to clients.
Confidence in the choice of a reliable partner, effective partnership, and a successful result.
KEY ELEMENTS OF BRAND IDENTITY
Logo
The key visual identity element of the brand is its logo. It represents a unique lettering and graphic element blended into a single composition.
The infinity symbol that refers to the capital letter of the logo stands for reliability, development, and flexibility – an infinite pursuit of success, as well as the inexhaustible potential of the SOFTSWISS team.
In some instances, the graphic element can be used separately from the lettering, for example in an avatar used on social media.


Brand colours
The colour palette captures the company's friendly, dynamic image.
The corporate colour palette consists of four colours – red, yellow, black and grey.
The corporate colours are presented in various colour systems for the most accurate reproduction with the use of various technologies and on various carriers — from signboards to advertising materials.
Logo uses on various backgrounds
Whenever the logo is placed on the background of the corporate colour, the logo reversal option is used.
The logo is used on a white protection solid base with its dimensions equal to the size of the logo with the protection area on backgrounds that do not belong to the brand colours, as well as on complex backgrounds.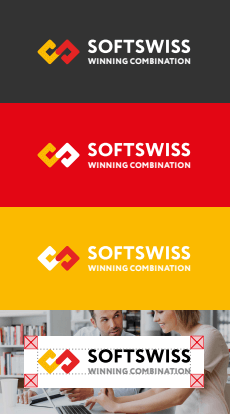 Monochrome logo versions
Single-colour logo versions are used whenever multicolour printing is unfeasible.