Today, Bitcoin has become one of the most popular decentralized currencies in the iGaming industry. As is often the case, popularity and speculation go hand-in-hand. The legality of cryptocurrency gambling crops up frequently as well. Operators starting their online Bitcoin casinos, or any other cryptocurrency for that matter, are often confused by controversial facts and ambiguous decisions of authorities in regards to the cryptocurrency.
Desiring to operate their business legally, they try to find out if offering gambling services for Bitcoin is legal, whether a Bitcoin casino needs to be licensed. Considering how rapidly the situation changes, it's hard to identify a main global strategy. Each region has its own trends in relation to Bitcoin. This article is our research to determine how strict Bitcoin gambling regulation is. Join us and deepen your knowledge!
Bitcoin gambling worldwide
As a pioneer of legalising cryptocurrency, the European Union is at the forefront of the cryptocurrency movement. Even so, no comprehensive regulation is in place to regulate crypto-related activities at the time of writing. 
When it comes to crypto regulation, Malta is the leader. MDIA, ITAS, and VFA, as well as blockchain laws, were all passed in Malta first. Some leaders consider it the most iconic law system used right now.
In the United States, for example, all online gambling is prohibited by the Unlawful Internet Gambling Enforcement Act, which means the authorities may still take strong measures against Bitcoin gambling websites and gamblers who make wagers with Bitcoin or other cryptos.  It forbids "knowingly accepting payments in connection with the participation of another person in a bet or wager that involves the use of the Internet and that is unlawful under any federal or state law", so all states must consider it.
There are countries where cryptocurrencies are prohibited, but crypto exchanges are quite okay. South Korea is one example of where this scheme holds up. Some governments are confidently on the way towards working with cryptocurrencies. For example, El Salvador became the first country to accept Bitcoin as a legal currency in August 2021. 
The United Kingdom accepts Bitcoin as a store of value but imposes several restrictions on cryptocurrency gambling. Although, casinos that wish to offer Bitcoin gambling have to ensure that they "can satisfy the requirements regarding source of funds before making an application, as failure to do so could result in the application being refused". The confirmation process may seem a bit tedious or lengthy, but it is necessary in order to ensure legal crypto activity in the country.
Key facts on Bitcoin gambling legality
Is crypto gambling legal? What laws are in place to regulate crypto activity? What does it take to open a 100% legit Bitcoin casino? Sometimes there are more questions than answers.
The opinion on cryptocurrency gambling is rapidly changing, the legality of Bitcoin gambling is still hung up in many countries. As of today, there are no single, clear-cut answers to the questions above. However, here are some useful key points that need to be understood:
1) In general there are no specific laws regulating Bitcoin gambling. It is neither officially allowed nor prohibited.
2) The attitude of different authorities to Bitcoin is changing quite rapidly, with more and more countries looking at Bitcoin positively and discussing the regulation of cryptocurrencies and blockchain-based services on the whole. 
However, most governments today are still not referring to Bitcoin as a real currency. If it is not a 'real' currency, any regulations around traditional (fiat) currency in online casinos and sports betting sites should not be applied to Bitcoin gambling websites.
3) Despite the above, in countries where gambling is strictly prohibited, like the United States, the authorities may still take strong measures against Bitcoin gambling websites and/or gamblers who make wagers with Bitcoin, or any other cryptocurrency for that matter.
4) Bitcoin gaming websites offer the benefit of increased anonymity to players. Although, most trustworthy casinos will still require some form of identification as part of AML and CFT policies. 
5) A few international gambling jurisdictions already issue licenses to casinos accepting Bitcoin (notably, Curacao), which means they accept the responsibility of controlling cryptocurrency operations on gambling websites. As long as the online casino or sports betting website is following the rules and regulations of the chosen jurisdiction, it operates within a legal framework.
How do Bitcoin casinos work?
The first step to using a Bitcoin casino online is to create a crypto wallet and then buy Bitcoins using fiat money. When the player has his own crypto wallet, he can choose any casino he wants. One crypto wallet can be used at most online casinos and bookmakers.
It's difficult to define what opportunity is more attractive to players: anonymity or the ability to grow their winnings because of crypto-market fluctuations. We think that it is both. 
Bitcoin casinos, on the whole, are not so different from other online casinos: placing bets, the way they operate, and the bonuses they generously offer, are almost like those at regular online casinos. The Crypto Casino software that powers crypto casinos and bettings sites is practically identical to the software used in fiat casinos and betting sites. 
What about advantages?
There are plenty. Bitcoin transactions are:
totally anonymous and private

free of banking fees

secure

fast

not affected by inflation
There are many more things that could be added to this list! 
The advent of cryptocurrencies as an alternative means of exchange to more traditional methods has also led to alternative viewpoints. Due to the non-traceability and constant technology changes, Bitcoin involves certain risks. Although,  cryptocurrency gambling business opportunities are worth exploring.
Should a Bitcoin casino have a gambling license?
It is important to understand that a gambling licence is necessary for an iGaming business to pass the application for a merchant bank account and to officially work with electronic payment systems. However, casinos don't always share information, regardless of whether they hold a license or not. The most common gaming license among operators who share this data is Curacao.
On the whole, Curacao is probably one of the most affordable jurisdictions for licensing online gaming. It also stands out as having one of the easiest market entry points and clear conditions. Operators are not restricted to a single cryptocurrency and can use any. In addition to offering players a choice of payment methods, it offers operators a tool to attract Bitcoin users.
When the casino website is working with Bitcoin, all of the payment processing can be performed internally with no third party services involved, only the provider of the crypto payment infrastructure. Deposits and withdrawals are transferred almost instantly and Bitcoins move directly between the player's and the casino's Bitcoin wallets. Thus, the necessity to present a gaming license to any financial institutions is eliminated. Therefore, one could argue that when it comes to working with Bitcoin, a gambling licence is optional or at least not a prerequisite to accepting payments.
On the other hand, a lot of players perceive a Bitcoin casino in the same way as any traditional online casino. They want to be sure that they bring their spare funds to a reputable and secure online environment and that their rights are protected by an independent authority. In this case, a valid gambling licence from one of the gaming licensing jurisdictions becomes an important marketing and player protection tool that contributes to player loyalty and considerably increases the casino's reputation.
The customers' personal safety is the priority. It is necessary for players to know they are playing at a reliable website where their information is protected. 
In-Game Currency Conversion: a way to engage your crypto-centric audience 
Despite the popularity of cryptocurrencies as a payment method, not all popular games and game providers have already enabled cryptocurrency support. 
With the SOFTSWISS Casino Platform's In-Game Currency Conversion tool, crypto-oriented players can play any game, even those that don't initially support cryptocurrencies. Here is a diagram showing how the novelty works.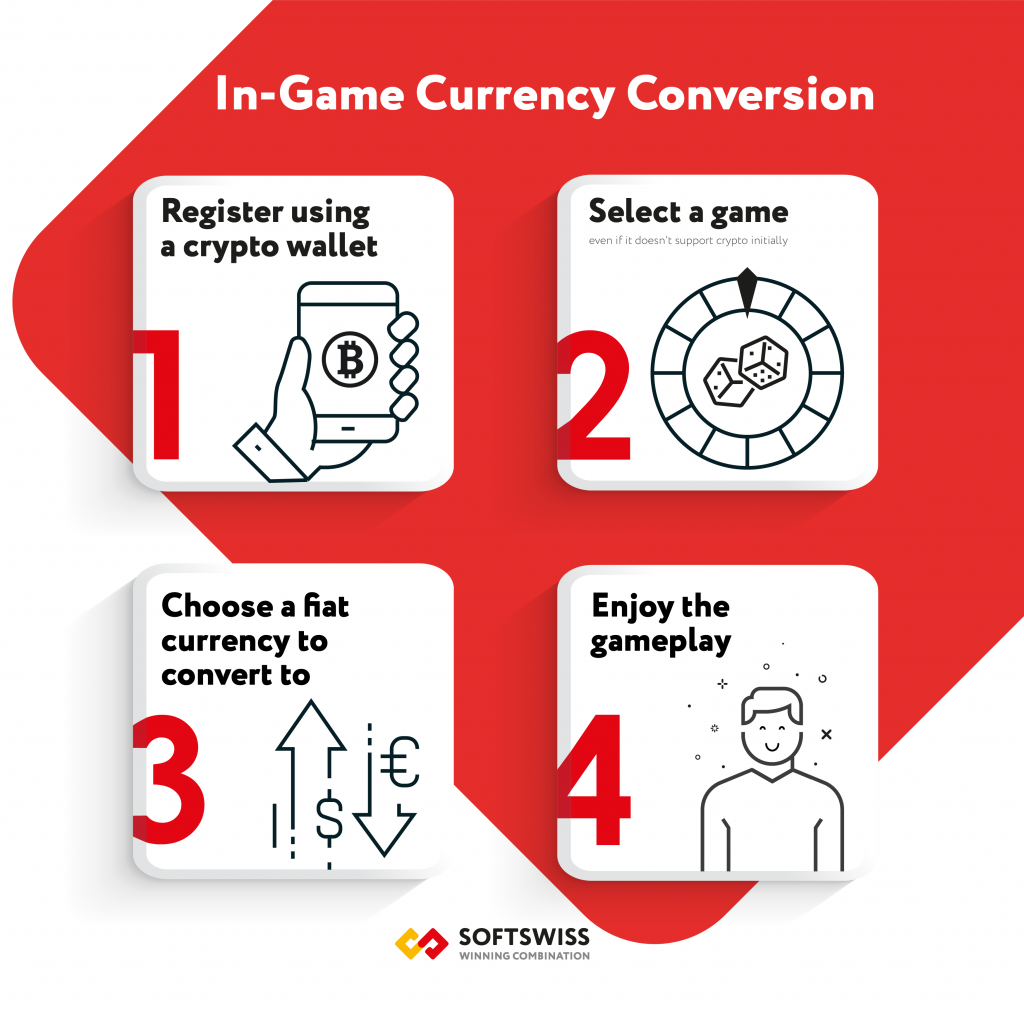 It allows iGaming businesses to extend their player bases and enhance player experience by offering a seamless gaming experience without having to switch payment methods.
Where can players seek help with Bitcoin casino complaints?
Cryptocurrencies have become a focus of gambling regulators due to their ability to skirt anti-money laundering requirements. 
Unscrupulous crypto-gambling operators could also put players at risk. A fair, calm, and private resolution of all iGaming conflicts can be achieved by casino mediators. This term is becoming more widely used in the gambling industry, and by essence, it refers to the service that provides players with a secure online gambling experience. 
There is a form of justice operating within the iGaming industry. The mediators don't only protect the players, but also the casinos from being slandered.
Mediators are not only responsible for conducting investigations and handling complaints. Aside from providing accurate and up-to-date information on online casinos worldwide, the teams offer comprehensive reports on their activities as well as blacklists so players can avoid rogue websites.
Their mission is to push the industry forward, honour the most transparent operators, and downgrade unfair betting services. Sites like AskGamblers, ThePOGG, and Casinomeister are a few examples of mediators that pursue this mission.
The future of cryptocurrency gambling
Cryptocurrencies can no longer be ignored. Because anonymity, speed, and privacy may be still a strong argument for Bitcoin gambling for some players. Operators, who operate without cryptocurrencies lose out on a potentially loyal audience. 
Despite some of the difficulties Bitcoin has faced since the launch of the first Bitcoin casino, blockchain has become part and parcel of online gaming, providing fast and secure payment processing without any third parties involved. No one could imagine that deposits and cashouts could be made so quickly and easily, and with crypto, it has become a norm.
The fact is that crypto gambling is growing significantly on a daily basis. More and more gambling websites are available for crypto gambling, catering to coins of all kinds.  
Legislation around Bitcoin is sure to evolve at a fast pace worldwide in the next several years. Nowadays, to be on the safe side and rule out any potential risks connected to illegal business operation, it is advisable for casino operators to follow gambling laws applied to fiat money casinos in their targeted jurisdictions. Being at the forefront of the Bitcoin gaming business segment, we at SOFTSWISS are always ready to provide professional consulting and support in the area of Bitcoin casino operation.