Getting a gaming licence is an essential factor in starting a standalone online casino. Besides improving a casino's reputation and contributing to player trust, the licence is otherwise required to process players' deposit and withdrawal transactions, as well as to work with many of the software and game content providers.
Why Online Casinos Need a Gaming Licence
If you are planning to launch an online iGaming business, it is necessary to get an online gaming licence for your casino or sports betting site. A gambling licence is a prerequisite to working legally and without complications. Here is what you need it for:
Opening bank and merchant accounts

Working with electronic payment system providers

Access to gaming content from reliable, game providers

White-hat marketing and responsible gambling practices

Increased player loyalty and trust
The first step into getting an online gaming licence starts with selecting the right gambling jurisdiction. This is because each jurisdiction offers unique requirements for the casino operator, the software they use, licence application processing time, and licensing costs.
Understand the types of gambling licences
Every country has unique rules and regulations governing online gambling and betting. Understanding these regulations is key to determining the kind of betting licence you will need to obtain, to provide online casino or sports betting services in a specific country. Gambling licensing can be divided into two broad categories: 
National licences – specific to a country, permitting local operations

International licences, or offshore gambling licences, – cater to multiple markets
It is vital to understand that a licence is a must for running a legal online gambling business. This can enhance your brand's credibility and ensures financial stability for both you and your players. Also, remember that many users base their decision to engage with an iGaming site on the credibility of its licence. Without the proper licensing, an iGaming business risks losing user trust and, consequently, failing. 
While national licences let operators focus on one specific country, there are multiple international options available where you can licence your online gambling business – Malta, Curaçao, Kahnawake and some others. Each has its own policies and regulations. Let's have a closer look at what we consider to be the best offshore betting licence options. 
Curaçao Gambling Licence
The Curaçao licence is extremely popular with operators of online casinos, all due to its low costs and opportunity to conduct business across a wide geography. Seasoned players from the world of gambling are quite familiar with the Curaçao gambling licence, acquiring this licence will usually help to increase player trust and loyalty.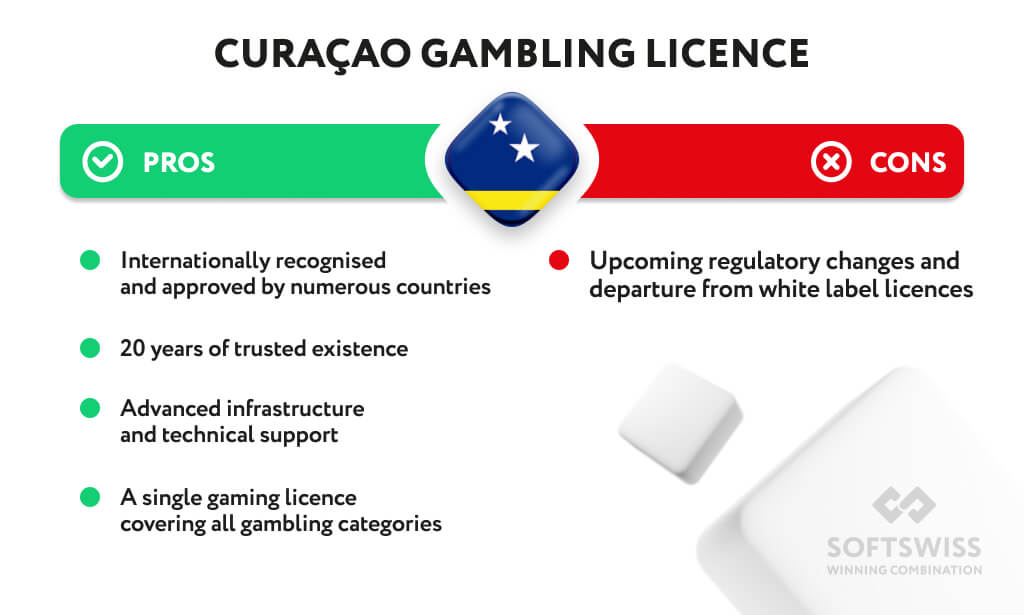 Previously renowned for its exceptional loyalty, this licence is anticipated to become more resource-intensive for operators in the future.
New licensing changes are expected to come into effect after the second quarter of 2023. Changes will include:
Implementation of new fair play standards, with modifications to measurements and audits.

Enhanced player protection measures, customer care, complaints handling, and responsible gambling policies.

Introduction of international standards to combat money laundering (ML) and terrorist financing (CFT).
In addition, licencees will also need to have a presence within the country, including an office and a staff of at least four employees – one of whom must be a local resident of Curaçao.
Malta Gambling Licence
Malta's gaming licence is usually regarded as one of the most prestigious and stable in the world. Having this licence demonstrates that the casino operator is transparent and follows all EU regulations when it comes to online gambling. 
As of 2022, the Malta Gaming Authority (MGA) requires licensees to comply with additional background checks and to ensure no funding comes from Russian sources.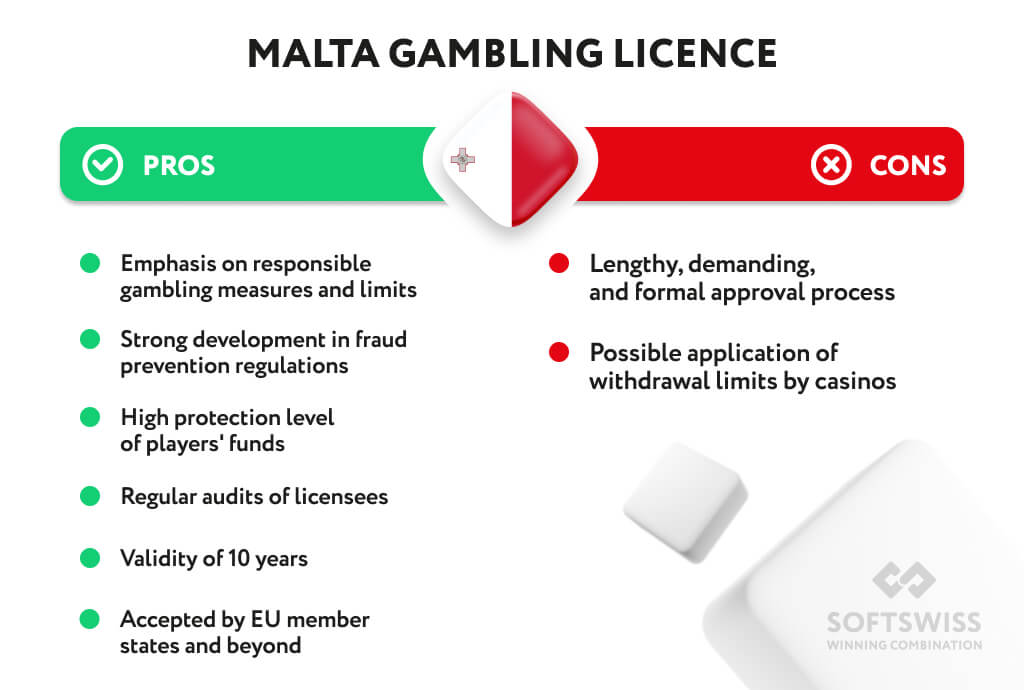 Kahnawake Gambling Licence
Kahnawake was the first jurisdiction to recognise the potential of online gambling and enact regulations back in 1999. Now this well-respected location holds more than 250 licensed sites. This licence is extremely attractive in the world of iGaming as it offers a great variety of licensing options as well as numerous fiscal benefits. Also, its low costs of setup and maintenance, as well as a flexible setup process, make Kahnawake a great option for iGaming startups.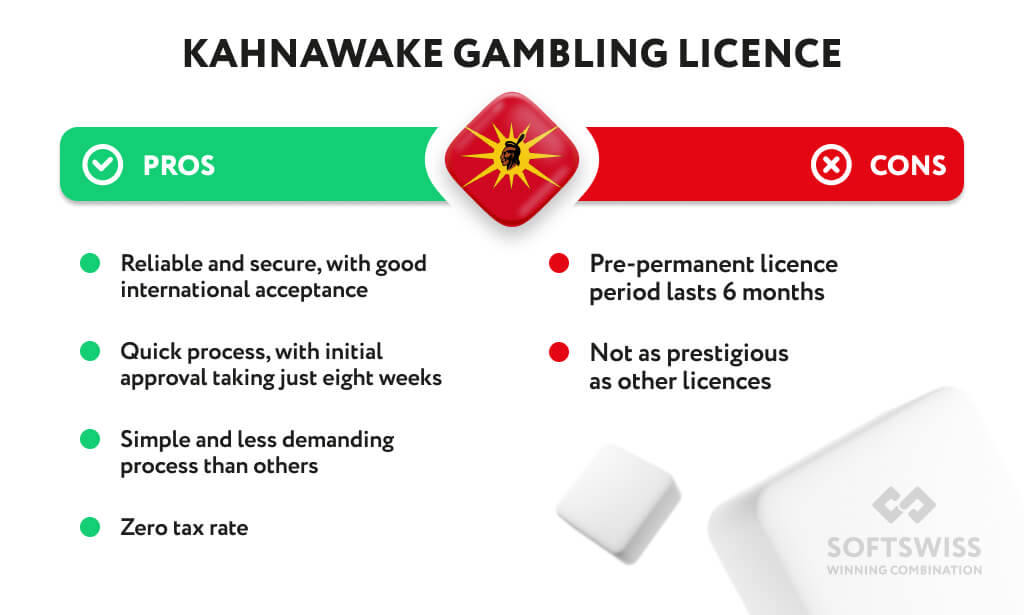 Things to consider to obtain gambling licences
Each licence guarantees legal operations in certain jurisdictions, however there are key differences you need to be aware of when it comes to getting gaming licences for your online casino. Your ultimate goal should always be to find the option that best suits the needs of your business. Let's have a look at some aspects to consider, so that you can make an informed decision.
The cost of the whole process
Make sure that your budget can fit all the expenses that come with having a gambling licence. Apart from the process of obtaining the licence itself, there are also expenses associated with setup, incorporation, operations, and ongoing maintenance. 
Jurisdictions sometimes negotiate double taxation agreements with other countries. Make sure to study all tax laws and treaties before setting up your business. Paying tax in multiple jurisdictions is less than ideal. 
The jurisdiction itself – the political and economic situation
Low costs or other benefits can seem attractive when shopping around for a gambling licence, however, you always need to plan for the long run. Unfavourable political and economic conditions can lead to fluctuating exchange rates, profit remittances, and changes to gambling legislation. 
Decide beforehand what level of privacy you need for your business. Licensing jurisdictions have varying requirements for confidentiality, information sharing, and the personal details of ultimate beneficial owners (UBOs).
Your specific business needs are not going to be met just by any jurisdiction. Even though numerous locations offer a way to get your gambling licence, sometimes there is no good strategy in place, adequate policies, or even acceptable asset management plans. Make sure to study and analyse vital information like filing obligations, disclosure requirements, tax exemptions, policies, compliance, and more.
Steps prior to applying for an online gaming licence
So far, as we've already seen, obtaining an online gambling licence can be somewhat tedious and complicated. It demands precision in both the procedural steps and document submission, with little room for error.
It is understandable that the more experienced iGaming operators will eventually want to hold their own standalone licence. However those who are just starting out or want a quick launch, should consider going the white label licence route.  
To avoid difficulties and streamline the process, it can be beneficial to engage an experienced company to handle the licensing process for you – helping to simplify and expedite your journey.
In any case, before deciding to get a licence for casino purposes, either on your own or going for a White Label solution, here is a checklist to guide you in the right direction:
Familiarise yourself with the gambling jurisdictions available: their requirements, costs, taxation policy, and application processing time.

Choose the jurisdiction that best corresponds to your current needs and possibilities.

Ensure your chosen casino or sportsbook software

meets the specific jurisdiction's requirements. Licensing bodies in different jurisdictions pose various requirements for the software used by the casino. For example, the software should have the appropriate functionality for supporting self-exclusion policies.

Be prepared to incorporate a legal entity in the required jurisdiction: most jurisdictions require that the casino is run by a locally registered company.

Start preparing personal documents in advance. Documents usually required for incorporation include a passport copy, a recent utility bill or other proof of address, a certificate of no criminal record from the police, and a bank reference letter, among others.

Prepare documents related to the gaming software. These usually include certificates of the RNG, detailed descriptions of the software functionality and games, agreements with software providers, etc.

Verify that your online casino website includes all information required by your selected gambling jurisdiction. Many jurisdictions will review the availability of details on terms and conditions, responsible gambling, self-exclusion policy, withdrawal policy, and more.
How SOFTSWISS Can Help You Obtain a Gambling Licence
Securing a gaming licence can be a complex process involving considerable time, effort, and costs. It can also last anywhere from several weeks to over a year, depending on the jurisdiction you choose. Having professional assistance can be a game-changer, accelerating the process and eliminating potential risks.
With SOFTSWISS, you get more than a service provider. You gain a trusted ally, genuinely invested in your success and ready to provide:
Expert Consultation:

We guide you in selecting the ideal gambling jurisdiction that aligns with your business goals.

Document Preparation Assistance:

Our consulting partners aid in preparing the required documents, reducing your workload, and ensuring everything is correctly completed.

Software Compliance Checks:

We ensure your software meets all regulatory requirements, minimising potential legal complications.

Seamless Communication:

We provide clear and efficient communication during the licensing procedure, helping to expedite the process.
In your exploration of the licensing process, you may have noticed that some companies choose to go it alone. Yet, many others recognise the value of expert guidance. 
When navigating such complex regulatory landscapes, it is often beneficial to lean on companies with a wealth of experience in the field.
As you ponder on your next steps, consider how critical the choice of a software and business partner can be in this venture. Reflect on the potential benefits of a partner that offers an all-encompassing White Label solution, one which fits effortlessly into the industry's framework and matches your business goals. In the game of iGaming, the right strategic moves can make all the difference.
How much will my gambling licence cost?

Gaming licence costs vary and can depend on the type of licence you choose. Aside from the base gaming licence cost, there are also additional fees associated with the process. For instance, a Curaçao betting licence alone costs around USD 5,000, but with all supplementary fees included, the total can actually arrive at nearly USD 20,000. It's important to note, that the price of getting a gaming licence also heavily depends on each operator's needs and business types.
How difficult is it to get a gaming licence?

Your knowledge of the industry plays the biggest part. It is vital to choose the right jurisdiction for your business needs, thoroughly research all necessary information, prepare the required paperwork, and ultimately prove your competence as a viable operator. Completing all these steps without professional guidance can be quite difficult and, in some cases, unsuccessful.
How long does it usually take to get a licence?

This depends on a variety of factors – the jurisdiction itself, the reach of their control checks, and the quality of both your application documents and your gaming software. Normally, it can take anywhere from 22 to 60 weeks, with some exceptions, to obtain gambling licences.
Is there an easier way to start operating my casino right away?

Yes, ready-made solutions such as White Label Casino can simplify and expedite business development, reduce expenses, and save time. With this solution, aspects such as licensing, payments, game content integration, and others are handled for you, enabling a swift start to your operations.