Finding a job, a store to shop at, or a music service — there is always a choice. These days, among all the factors that influence a decision, it is not the quality, the product, or even the price that matters, but the experience the client receives from the process of interacting with this product. The buyer pays not for the food delivery, but for a few free hours to spend with their family, not for a subscription to a service with films, but for the opportunity to stay at home and watch Netflix on their couch.
Casinos and bookmakers are growing in number in the iGaming industry as well. The market is developing. Getting the client's attention and then keeping him is the main goal for business. The iGaming market is so oversaturated that right now almost every even slightly successful casino offers games of high quality. Does that mean customers come not just for the games? The customer comes back for the sensations and gambling player experience that the operator gives him in the game and beyond.
What is player experience?
Skipping all the formal definitions and getting down to the heart of the concept, the player experience is the journey that a customer takes when interacting with your product. Every menu item, banner, and locally adapted image matters.
Almost each aspect of the platform either attracts a player and boosts the casino's KPIs, or doesn't work in favour, and this is vital to realize. With this approach, it becomes apparent that there are no unimportant details at all. Top operators now strive to provide players with a decent level of customer service and make them feel important.
In this article we share how SOFTSWISS contributes to making the player experience one to remember.
Providing a better player experience
In fact, two-thirds of companies compete based on customer experience (Source: Forbes). The iGaming sphere is no different. As the eye-opening statistics reveal, operators who prioritize motivating their players and improving their gaming experience will enjoy both more revenue and a loyal following.
Top 3 reasons to create a powerful player experience:
A new player is more likely to become a loyal one
What does it mean for the casino? An increase in the conversion of newcomers into loyal reliable players. Indeed, the connection between the active audience and the operator's revenue is direct, but focusing on earnings only is a losing strategy in the future. Developing relationships with players is a more profitable policy, which leads to financial growth in the long run.
Extended player lifecycle
The successful operator gives the player everything that the bettor comes to the casino for, namely:
entertainment and recreation

emotions and adrenaline

pleasure from the process
In this case, the probability that the player will not change the casino increases significantly. The operators who are ready to provide the players with extra value generally benefit from long-term loyalty.
Reliable market position
There is nothing new about word-of-mouth marketing. Unfortunately (or fortunately), the effectiveness of traditional promotion channels is now falling. People trust people. The same holds true for a wide range of spheres, but especially so for such a sensitive area like gambling.
Mentions are the best marketing tool with the highest conversions at the moment. Each brand works hard to build a positive association so that it can receive valuable recommendations.
Below on the graph, we schematically presented how player's loyalty and motivation can change with time.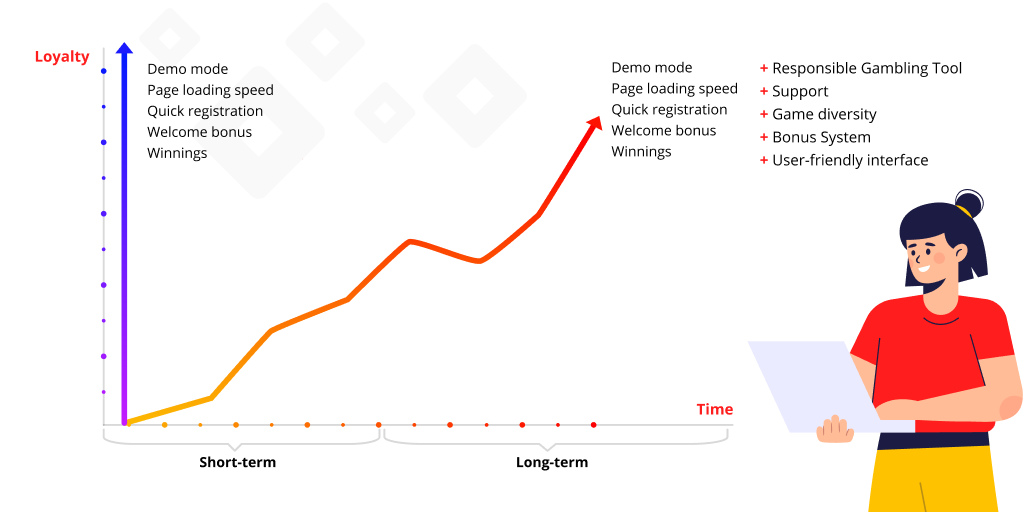 Yes, there are basic things that raise the level of player loyalty here and now:
availability of a demo mode

page loading speed

quick registration

the player's luck at a given moment in time
When these elements of the player experience are not backed up by anything else, motivation quickly falls.
Ideal loyalty systems combine short-term loyalty factors with long-term loyalty factors. You can't have a reputation as a friendly, helpful operator when your support relies heavily on scripts or makes the player wait too long. A single bonus won't make the player loyal, but a bonus system with different types of rewards included will definitely add some excitement to your player's journey. 
Take advantage of every method. As a result, you will receive player satisfaction and bettor loyalty to your platform.
Growth points to keep your players 'in the game'
How can you keep players coming back to a casino? What do players themselves care about? When does real loyalty begin? 
The answers to all these questions are below. Let's review 'trivia', that help SOFTSWISS' clients stand out and build their reputation.
Quick registration, autocomplete
Why is it important? The ability to show that the operator appreciates the players' time. It is convenient if there are no more than three fields to fill out on your registration form. A long registration form has a significantly lower conversion rate. Curacao's licensing laws allow you to please players with quick registrations — do not miss out on this opportunity. The rest of the information that is required for active gambling on the platform still needs to be provided later.
Lifehack: Malta requires all the information at once, there is no option with a shortened registration. This moment can be softened with the help of communication. The operator can build an emotional connection with the player and demonstrate the value of this step. After a detailed explanation, the operator receives gratitude and agreement instead of causing annoyance. Players value a special guarantee that their identities and funds are safe. 
Game diversity
Why is it important? Simply put, it increases audience engagement. With 100 games available, the operator can attract players of certain interests and geolocations. With a catalog 100 times larger, you can cater to new markets. When it comes to such large volumes, operators tend to turn to the Game Aggregator that can supply them with the top games in no time. By making the casino more diverse, the audience will be challenged to stay away from boredom: it won't be easy to lose interest.
Lifehack: here we can also mention sorting, which is important for both operators and players. According to the experience of the SOFTSWISS Casino Platform's clients, sorting is useful when creating unique tops of games for different regions. By making such offers, operators can target their bettors, categorizing them by their interests, geo-location, and other factors.
Demo mode
Why is it important? It is a classic feature that has already become the norm in iGaming. The demo game simulates a real gaming session using virtual funds instead of client's money. Winnings and wagers are not real. Demos are a great way to experience a game for the first time and see what it is like.
Lifehack: it is tempting to dismiss demo games as hopelessly outdated and unimportant features, but that's not the case. As our online platform shows, even such a classic solution as the demo mode can be a strong advantage if casinos approach it individually. Demo games are a proven way to test different ideas and convert those who "just watch" into faithful players.
Responsible gambling tool 
Why is it important? It helps your audience avoid gambling addiction. Bettors take full responsibility for their acts without shifting it to operators. Therefore, both parties will feel safe and comfortable during the interaction.
Lifehack: use non-trivial customisable tools. Reality Сheck is vital, but it isn't the only tool. Players need instruments that are flexible and can adapt according to their requirements at hand. On the SOFTSWISS Casino Platform, the operator can offer such types of limits. For example, our clients on a Greek license send their players notifications that 80% of the limit has already been reached. Bettors use this feature to control the situation better.
Adaptation of mobile versions
Why is it important? Some bettors prefer full-format PC gambling sessions, since it offers a sense of total immersion. Players who value computer independence choose gambling via a smartphone. A mobile version helps operators reach the maximum audience without limiting their players' choice of device.
Lifehack: do not neglect omnichannel. It enables the player to pick up exactly where he left off on the PC while playing on the smartphone. We believe that such a feature is proving to be highly competitive on the market. 
Keep your players engaged
There are more choices on the market than ever before; customer standards are higher than ever before. Creating an outstanding, simple, and engaging experience for players is essential for success. 
Here we shared our observations on how many seemingly simple and obvious things can ruin an operator's reputation. Building a truly outstanding casino requires a strong dedicated team, right software, and deep contact with the clients. The only way to create it is to show that you care about the audience by being on their side.