The concept of Responsible Gambling is centre stage when it comes to the online gaming industry. Today's players are more conscious about their entertainment choices and are seeking a secure and safe gaming experience. Gone are the days when fun alone sufficed; now, security and player well-being are paramount considerations, reshaping the entire landscape of the industry.
While the principles of responsible gaming are not new, they have now emerged as a top priority for all stakeholders involved in online gaming – including iGaming operators, players, and regulatory authorities. Initially, this approach might appear daunting to operators, as it involves restricting players for the sake of their mental health.
However, upon closer examination, Responsible Gambling reveals itself to be not just a requirement but a powerful tool for businesses to cultivate a large and engaged audience in the long term, foster a strong reputation in the market, and maintain positive relationships with regulators.
In this guide, we will delve deep into the Responsible Gambling policy, exploring the benefits of embracing practices, demonstrating how to implement these measures without compromising your business, and sharing real-life tactics that are currently proven to be effective at SOFTSWISS.
What is Responsible Gambling
Put simply, responsible gambling refers to a series of practices that ensure a gambling business operates in a way that is safe, ethical, and enjoyable to its players. It is about keeping players engaged without letting things get out of hand.
Responsible gambling stands in direct contrast to problem gambling, where players become ensnared in detrimental behaviours. Here are several indicators of problem gambling:
Obsessive thoughts about gaming
Escalating financial commitments
Unsuccessful attempts to quit or reduce the activity
Irritation when limiting staking
Gambling as an escape from difficulties
Chasing losses through continued play
Deceptive practices about betting habits
Borrowing money for gambling
Impact on work, relationships, or daily life
Seeking loans due to losses
As a result, responsible gambling guidelines are designed to prevent the mentioned behaviours and, if they arise, to promptly identify and address them. This proactive approach aims to minimise risks for both players and the business itself. It emphasises a strong dedication to player well-being and effective operational management within the industry.
Safeguarding Business Interests: Why iGaming Operators Should Care
For casino and sportsbook owners, players are the lifeline of their business. The player is, therefore, the responsibility of that business. For iGaming enterprises, staying vigilant matters. Ignoring problem gambling can lead to various business risks:
Financial impacts
When problem players accrue substantial losses, the results extend beyond mere dissatisfaction – they jeopardise the financial stability of a brand. Moreover, such scenarios can trigger unwarranted legal entanglements, potentially resulting in audits and legal complications.
Reputation under threat
Neglected betting-related issues cast a shadow on your brand's reputation, eroding player trust. The amplification of complaints across player forums and social media platforms generates a web of negative discourse that could surround your company needlessly.
Regulatory scrutiny
Mishandling problem players not only casts doubt on your ethical standing but also captures the attention of regulatory bodies. This increased scrutiny raises the risk of violating regulations, which in turn may lead to fines or even the revocation of licences for operators.
Threat to sustainability
Prolonged neglect or engagement with problem players poses a genuine threat to the enduring success of any iGaming business. The ultimate objective of every iGaming company, whether a casino, poker room, or bookmaker, is to foster enduring and non-exploitative relationships and build player loyalty. Problematic players pose a distinct threat to this goal and cannot serve as the target audience for a sustainable future.
Apart from compliance with regulatory norms, adopting Responsible Gambling practices comes with substantial benefits:
For Your Business:
Enhanced reputation, attracting more customers
Sustainable success and long-term growth
Lower exposure to legal and regulatory challenges
Strong customer loyalty and positive feedback
For Society:
Reduced negative impacts on individuals and communities
Positive perception of the gambling industry's societal standing
Social well-being
The role of iGaming operators in fostering a responsible gaming policy is pivotal. By adopting Responsible Gambling practices, online betting businessmen not only safeguard their projects but also play a crucial role in shaping a positive and sustainable future for the iGaming industry. This commitment to Responsible Gambling underscores dedication to success that is built on integrity, ethics, and societal well-being.
Who Is Most at Risk of Problem Gambling: Vulnerable Demographics
In the realm of Responsible Gambling, while comprehensive data remains limited due to the emerging nature of the field, some noteworthy trends stand out. Examining statistics from Statista's survey for March 2021 in the UK reveals that the 35-44 age group presents a more prominent segment of problem gamblers, while other age groups maintain a 0.4% share.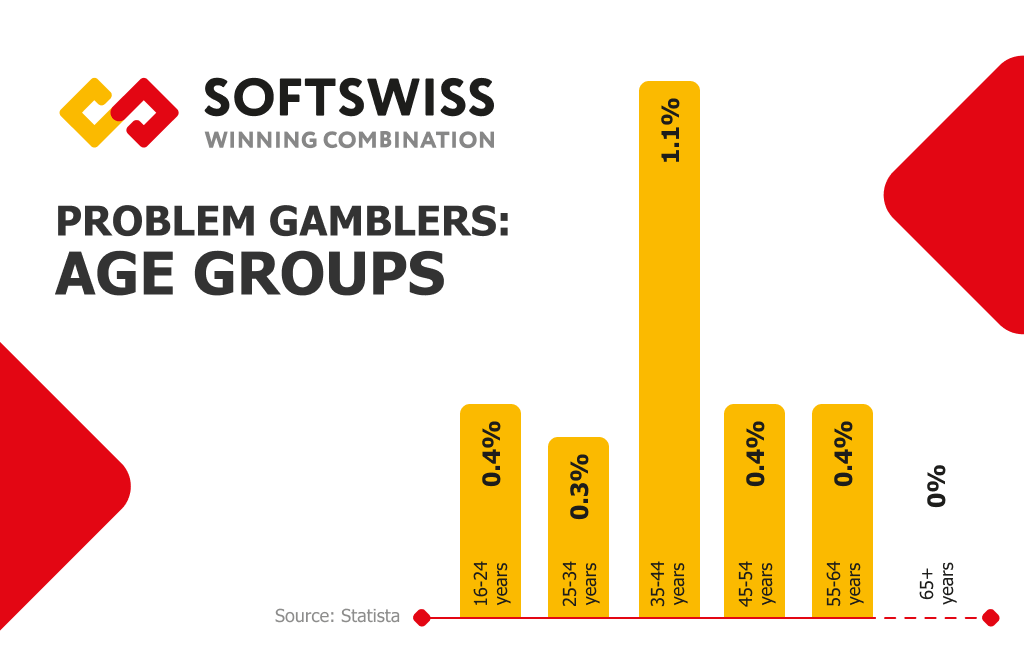 Delving into overall gambling activities, a quarterly telephone survey conducted by Yonder Consulting on behalf of the UK Gambling Commission (UKGC) offers insights.
Recent statistics shed light on a stable betting scene, with 44% of people participating in various gambling activities over the past four weeks, matching the level of 2022. In-person gambling remains steady at 27%, though it has not fully recovered to the pre-pandemic level of around 35%. Similarly, online space stands strong at 26%, consistent with data from the year ending in March 2022.
These statistics hint that the iGaming industry has remained stable despite economic and political challenges. Although player activity and gameplay patterns haven't fully returned to pre-COVID levels, a closer look at player profiles provides noteworthy insights.
For example, different age groups exhibit diverse attitudes and behaviours. Adolescents view gambling as less problematic due to exposure to social casino games. Young adults (18-24) tend to engage in riskier gambling, possibly due to developing decision-making skills.
Community norms also shape perceptions. Certain communities consider gambling commonplace, potentially hindering issue recognition and support-seeking. Language barriers and ethno-cultural factors can amplify vulnerability.
Indigenous populations show distinct patterns. Urban Indigenous people have higher gaming involvement, especially in electronic gambling machines, instant lotteries, and bingo. However, this group also faces a significantly higher problem betting rate influenced by education, income, and employment disparities.
Immigrant dynamics also warrant attention. Immigrant adolescents, particularly first-generation, exhibit elevated gambling severity. Foreign students and workers face specific challenges, including altered survival strategies and an emphasis on substantial gains.
Understanding these complexities is essential for effective business strategy. Tailoring responsible gaming practices to diverse demographics ensures positive contributions to both bottom lines and broader societal well-being.
How Can an Online Gambling Business Implement a Responsible Gambling Approach
Developing a comprehensive Responsible Gambling framework is of critical importance for iGaming businesses. This approach revolves around four key pillars.
Key Responsible Gambling Principles
Protecting the vulnerable
Central to any Responsible Gambling approach is the safeguarding of vulnerable individuals. Employing robust identification and monitoring systems, businesses can identify those at risk and implement interventions to prevent potential harm, recognising patterns of excessive play or behaviour changes.
Preventing underage participation
Online gambling operators prioritise stringent age verification procedures to ensure that only eligible individuals access their platforms. Rigorous Know Your Customer (KYC) checks and age verification mechanisms maintain platform integrity, shielding minors from participating in betting activities.
Fostering fairness and transparency
Transparency in gambling operations is pivotal for fostering player trust. Vetting the game providers and content you offer (RNGs) ensures equitable outcomes. Offering explicit terms, clear odds, and transparent payout percentages enriches the player experience and nurtures a sense of trust.
Promoting Responsible Gambling practices
Operators empower players by enabling features like deposit limits, cooling-off periods, and self-exclusion options. Additionally, providing educational resources such as risk assessment information, responsible gambling disclaimers, and guidance on setting healthy gaming boundaries empowers players to make well-informed decisions.
Here is a concise list of specialised organisations committed to fostering responsible gaming, which operators can highlight on their platforms:
These resources may be made accessible through dedicated portals, newsletters, or specific website pages, serving as crucial reminders of the potential dangers and offering essential contacts for assistance and support.
Key Responsible Gambling Tools
Let's take a closer look at the essential measures that operators adopt to ensure a safer and more responsible gambling environment.
KYC (Know Your Customer)
In the intricate dance of gambling regulations, KYC emerges as a non-negotiable cornerstone. This process involves verifying the identity of players and assessing potential risk factors. From scans of passports to bank statements, a range of documents may be requested during registration or post-registration. This not only safeguards against problem gambling but also contributes to the prevention of money laundering and financial terrorism.
In the process of vetting users, two crucial checks stand out: verifying PEP (Politically Exposed Persons) status and cross-referencing sanctions lists.
What are PEPs?
PEPs encompass individuals who occupy significant political positions – ranging from heads of state and ministers to parliament members – and their family members. Given the nature of their roles, they may be vulnerable to engagements in activities like money laundering. It is essential to note, however, that not every PEP is involved in such actions. Still, the potential risk means that the AF team applies an enhanced level of scrutiny to such profiles.
Sanctions Lists Explained
These lists include individuals, organisations, or even entire states that are associated with high-risk activities. This can span from financing terrorism and money laundering to arms proliferation.
The SOFTSWISS team employs a rigorous procedure to evaluate PEPs. This includes automated checks against continuously updated databases post the user's first deposit and manual verification against these databases. Once a user's PEP status is confirmed, the team investigates the source of their gaming funds, which may lead to further clarification, including direct phone contact.
Age Verification
Responsible gambling starts with ensuring that players are of legal age. Seamlessly intertwined with KYC, this verification plays a pivotal role in confirming the eligibility of players to engage in casino games or sports betting.
Self-Exclusion Tools
Empowering players with a crucial choice, self-exclusion offers a way for individuals to take a break from gambling activities. This tool allows players to request either a temporary or permanent exclusion from betting sites. During this period, they can't access their account or interact with the gambling site. By offering this option, operators extend their commitment to supporting players in their journey towards responsible gaming and extend a lifeline to individuals seeking a recovery period.
Player Limits
Striving to foster responsible gaming habits, operators provide players with the option to set personal limits on their gambling activities. This includes defining both deposit and loss thresholds and session duration. By putting these controls in the hands of players, operators contribute to a safer and more mindful gaming experience.
Reality Checks
Navigating the exhilarating highs of gaming can sometimes obscure the passage of time and financial bounds. The reality check tool emerges as a compass in this exhilarating terrain.
A vital component of Responsible Gambling, reality checks are player notifications that act as a gentle reminder in the heat of gaming excitement. These pop-up notifications display the time spent in an active session and the corresponding losses. This feature not only aligns with responsible gaming standards but also helps players maintain a clear perspective on their gaming activity.
Responsible Gambling Beyond the Digital Realm
Acknowledging that responsible gaming transcends virtual borders, offline domains embrace the same principles. Amidst the vivacity of brick-and-mortar settings, diligent document scrutiny, proactive monitoring of individuals with past concerns, and self-exclusion lists uphold the ethos of responsible gaming.
Responsible Gambling Laws and Regulations
Online gambling operators are subject to diverse licensing requirements, each carrying a responsibility to promote mindful gaming and prevent potential issues. Here's a look at some examples of Responsible Gambling compliance requirements in different jurisdictions:
United Kingdom: In the UK, the operators are held to strict standards by the UK Gambling Commission. They must implement measures like age verification, self-exclusion, and player limits. Operators also actively contribute to a comprehensive national strategy for Responsible Gambling.
To maintain vigilance, they monitor activity and check affordability, observing prolonged online sessions or significant deposits. This prompts self-assessment tests or income verification to ensure safe and affordable gambling. Limits may be imposed or accounts closed based on the assessment.
Malta: The Malta Gaming Authority requires online gambling operators to establish safeguards, including self-exclusion tools, player limits, reality checks, activity monitoring, and age verification, promoting Responsible Gambling.
Curacao: The Curacao Gaming Control Board mandates Responsible Gambling features within online platforms, such as player limits and age verification.
Beyond licensing, regulatory obligations also come into play. For instance, in the UK, the Gambling Commission has outlined a national Responsible Gambling strategy that operators must adhere to, incorporating its practices into their operations.
In essence, responsible gaming is a collective effort that involves operators, regulatory bodies, and various jurisdictions. The winning combination of these efforts forms the foundation for a safer and more responsible online space.
How to Create a Safe Gambling Environment: SOFTSWISS Experience
In our commitment to ensuring a secure environment for gaming, we'd like to shed light on the extra efforts we undertake at SOFTSWISS. These practices help strengthen our partners' businesses and promote responsible interactions with players.
Employee Training
In line with the requirements of the Malta licence, we provide consistent and specialised training to all team members interacting directly with players. Our focus is not merely on the present, we proactively keep ourselves abreast of the latest insights in the industry. Notably, our team has undergone rigorous courses, such as those provided by Gamcare, which emphasise Social Responsibility, Effective Communication, and Encouraging Behavioural Change.
Moreover, we prioritise spreading awareness about Responsible Gambling, its goals, and the tools available among the entire SOFTSWISS team.
Collaborative Oversight in Player Interactions
The SOFTSWISS system operates on multiple levels. It is not just the Responsible Gambling team that deals with player behaviour – teams like Anti-Money Laundering (AML), VIP, and Player Support also play pivotal roles. This collaborative effort ensures seamless operations and enables the identification of issues at any point of interaction between bettors and the SOFTSWISS staff.
Guiding Players to Resources
Equipping players with the necessary resources is crucial. We make certain that players know where to find help if needed. Leveraging support organisations, for example, Responsible Gambling Council or Find a Helpline, allows us to share vital information with the players.
Crafting Informed Experiences
In this complex ecosystem of online casinos and bookmakers, Responsible Gambling is a strategic investment with far-reaching implications.
The commitment to training employees, introducing new tools, and promoting mindfulness in iGaming ensures a cohesive and informed approach to player care – a foundation that pays dividends in customer loyalty and trust over the long term.
Responsible Gambling is not just about numbers, it's about fostering an environment of trust, confidence, and well-being and building a sustainable and healthy business. And that is a win-win for all.