People are gamblers by nature. Whether partaking in a risky sport, executing a cryptocurrency trade, or gambling online, people try to test their skills, experience uncertainty, and gain a sense of control over luck and fate. It is the adrenaline rush that has made gambling an integral part of human culture, evolving as betting has moved online to remain viable in the digital age.
Players today are invariably drawn to casino games – games of fortune – and sports betting – games of skills. The trend of iGaming companies offering sports betting and poker, and some bookmakers reinforcing their brand with complementary casinos, poses several questions: who is the online gambling target audience? What is the difference between those who prefer casinos and those who prefer sports betting? As an operator, can you cater to both audiences with one brand?
We share unbiased insights from our clients and industry experts so that you could develop a truly winning business strategy for your sportsbook and casino.
The Online Casino Target Audience in 2023: Young, Male, and Motivated
The demand for bread and games is eternal. According to the UK Gambling Commission, in 2022, online gambling participation stayed strong at 26%, indicating steady growth for the future.
In other words, nearly one in three people is a potential casino guest, but such an abstract gambling portrait is simply not sufficient for business – let's look at a more detailed picture of the modern gambler.
Casino player profile
Hands down, stereotypes are not always irrelevant to tests. For example, the casino target customers in 2023, in line with one of the most overused stereotypes, is still mostly young men. Obviously, it is difficult to generalise, and the situation can vary from market to market, but it is broadly consistent across different GEOs.
According to casino.org, 60% of all UK players are men, but the number of women, currently at 40%, is increasing to equalise. Women tend to prefer bingo-type games, however, there has been an upsurge in demand for slots as of late.
Casino target markets
A global pandemic in 2020 brought a great deal of harm to offline casinos while boosting the online gaming industry tremendously. According to Grand View Research, the online gambling market is estimated to be worth 63.53 billion US dollars and is projected to experience a compound annual growth rate (CAGR) of 11.7% from 2023 to 2030.
In terms of distribution, Europe is expected to lead with a 53.2% share. An important driver in the development of this traditionally leading market remains the trend towards national regulation, which has been strongly reinforced by Germany, Sweden, and the Netherlands, previously accounted for by the remote gambling Malta Gaming Authority (MGA) licence. Since 2018, the number of online gambling licences in the region has been increasing.
The European online gambling regulation has always been quite dynamic; while one country opens up to online gambling, another introduces restrictions or begins work on local licensing. However, one trend stands out clearly – Europe is a mature and, at the same time, very promising market that is moving toward strong local regulatory frameworks and improving industry-government relations.
Despite certain cultural differences, Asia and the Middle East still hold a significant market share (27.8%). According to some sources, the overall value of the online gambling market in Asia is estimated to be 72 million USD. Without a doubt, the jurisdictional and regulatory situation looks challenging, yet growth prospects and a market share of almost 30% leave no room for neglecting the region.
Latin America is probably the most watched region this year. With favourable updates in the jurisdictional framework, the region is now witnessing significant growth in the gaming industry and ranks with a share of 1.3% making it one of the best markets to target with an online casino.
Africa is the new Klondike for the online gambling & betting market. As a result of the region's continued economic growth, the sports industry's strong interest, and improving telecommunication and internet conditions, it makes a great market for bookmakers. Globally, Africa contributes 1.1% to online gambling with a growth forecast. Sub-Saharan Africa's policy on online gambling determines the strategies of businesses looking to enter this market.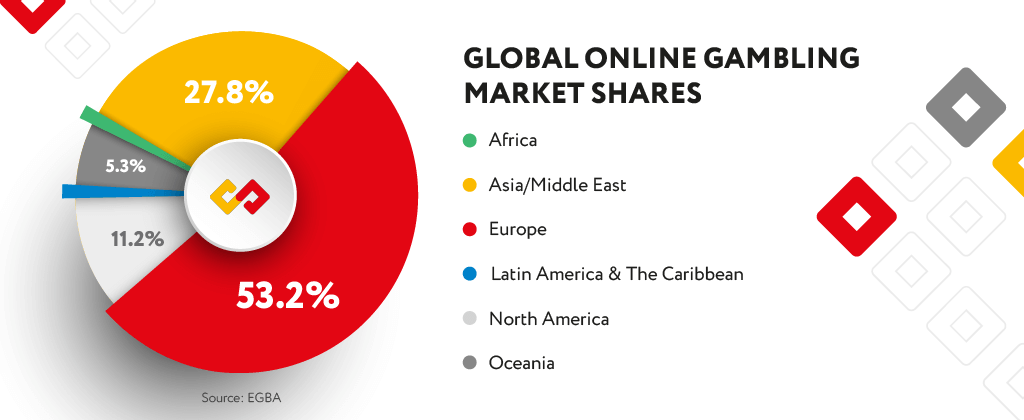 Traditionally, slots have captured the hearts of players around the world for decades now – different genres, graphics, and bonus policies keep this classic game from becoming stale as it re-emerges in new contexts. An important part of any casino's portfolio is what is known as a skill game – table games. Poker, blackjack and baccarat on a live or RNG basis have a loyal following among those seeking to develop their logic and analytical abilities. 
Fish games are also becoming increasingly popular, especially in Asia. No matter how realistic or graphic the elements are, the catch-the-fish-type game appeals to players who value tactics and progression in a game, as the elements, aka fishes, constantly move and demand players' attention. 
Digging deeper into the details, you'll see below the top 10 games among the SOFTSWISS Game Aggregator and Casino Platform clients in 2022. There's nothing new here: an abundance of slots from market leaders Evolution and Pragmatic Play and traditional live dealer positions for those who prefer the authentic casino experience and are committed to the community.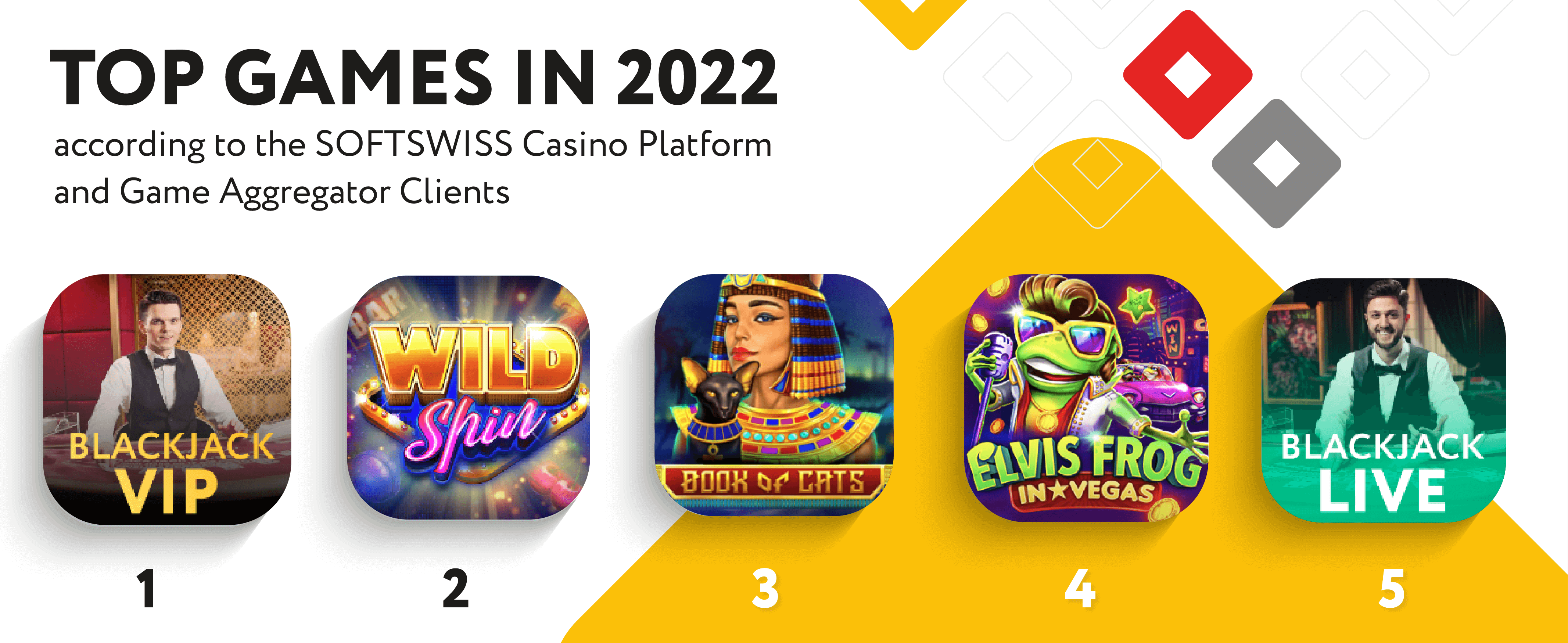 Player motivation
Creating a dynamic casino audience without the signs of compulsive gambling requires understanding the true motives of your target players. 
Obviously, it is impractical to generalise everyone, as motivation is influenced by lots of factors, for example income, education level, etc. Furthermore, there is also no one particular cause or motivation – it is usually a combination of many variables that affect player engagement. But explaining basic player attitudes and identifying their real game needs helps operators properly segment the audience and make them an offer they are unlikely to be able to refuse. 
Some of the most common factors that influence casino players' engagement include 
Social aspect
Traditionally, brick-and-mortar casinos were a great way to socialise, establish status, and meet new people. As the online casino market developed, its direct role in in-person socialisation gradually declined; it was not completely lost but transformed. Today's casinos are surrounded by various communities, forums, chat rooms, and live dealer activities designed to maintain a sense of presence.
Psychological factors
In a sense, gambling is an antidote to routine, an activity that saturates life with new emotions and colors. The desire to win, the adrenaline rush, and the excitement are the dopamine hooks that lure players in.
Earning ambition
Some players view a casino game as a way to make money and improve their standard of living. When players rely on luck, leave relatively small amounts at the casino, and always have a chance to break even, it gives the impression that casinos are money-making machines, which isn't the case. Usually, this motivation leads to addictive and destructive behavior, so it is prudent to monitor player patterns according to Responsible Gambling policies in order to prevent future problems.
The Target Audience for Sports Betting in 2023: Football-Focused and Tech-Savvy
The US sports gambling market size had passed 50 billion USD by 2021, nearly doubling that of 2020. By 2028, the global sports betting market will surpass 140.26 USD billion. Let's dive deeper into the profile, motivation, and playing patterns of bettors this year – who is driving the sports betting market ahead?
Online sports bettor profile
Globally, the situation in sports betting remains similar – young and tech-savvy men dominate. According to the FSGA research, at the moment, the audience is distributed as follows:
Males make up 80% of bettors, while females make 20%
50% of bettors range in age from 18 to 34 (average age is 38.1)
67% work full-time
45% make over 75 thousand US dollars
While men make the bulk of bettors, women are becoming more active and catching up: according to the Earthweb statistics, every third woman bets on sports.
In terms of the audience age, it's not hard to see a trend toward the younger demographic. In the past, we referred to the average bettor as a man of 25 to 42 years old, but now that age ranges from 18 to 34. A number of factors play a role in it:
1. The growing interest in the esports industry. As the rising star in sports betting, esports can compete even against the king of sports betting – the all-time favourite football. Sports betting is becoming increasingly popular among young people who watch esports tournaments and play in video games. Target audience of sports gambling is growing, and it is a win for bookmakers seeking to expand their market.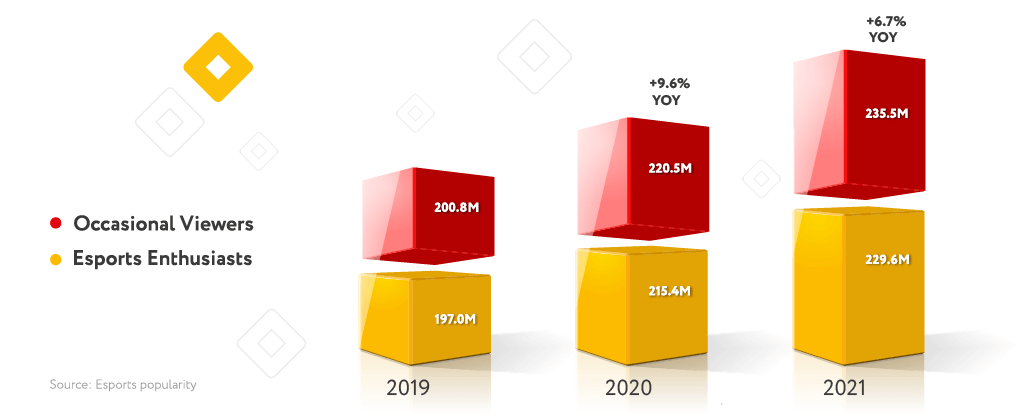 We define occasional viewers as individuals watching professional esports content less than once a month; esports enthusiasts watch esports more than once a month.
2. Younger audiences are more technically savvy, flexible, and open to new ideas. Fortunately, the younger generation now has a basic sense of reliability when it comes to the internet, new tools, and applications. As a result, they are more likely to try new things in the online space, including sports betting.
3. Sports betting plays a gathering or cultural role in several societies. Historically, sports betting has been considered a more socially acceptable form of gambling, even a traditional social activity. It's no coincidence that horse racing is one of the most popular sports in the UK and UAE, same as cricket in India. As a result, the next generation grows up with a sense of familiarity when it comes to sports betting.
Sports betting target markets
In general, the geography of bettors is not much different from the geography of casino players above – the overall gambling statistics are similar and globally follow the same trends. However, certain promising markets with substantial growth deserve special attention.
1. Nigeria
Nigerians are known for their love of sports, especially football, due to their historical and cultural background. It is for this reason that sports betting is the primary focus of development in this region, whereas casinos already play a complementary and reinforcing role.
It is not only a cultural context but also a technological framework that influences the form of sports betting in the region. Traditionally, sports betting requires less internet traffic and is easily accessed from mobile devices, which is pretty in sync with the current state of Nigerian telecommunications.
According to figures from Business Wire, Nigeria has 169 million mobile phone users, and 80% of them use smartphones to access the internet. Increasingly, sports betting operators are realising that providing players with a mobile-friendly option to place bets is crucial to capturing and retaining players.
What is more, player engagement in the region is rewarding. In a survey by the News Agency of Nigeria (NAN), 53% of respondents admitted betting every day, making Nigerian sportsbook operators abundant in opportunities in this online gambling market.
2. Brazil
Until recently, Brazil was often called a 'sleeping giant', which is a perfect description of the online gambling potential of the Latin American region and of Brazil itself.
The market is flourishing, and Brazilians are proactively making their way into the industry – statistics bear this out. The Globo study found that Brazilians actively engage in sports betting and bet on them regularly: 42% of players bet on sports 1–3 times per week, and 18% of gamblers bet at least 7 times per week.
What criteria are significant for regional players when choosing a sports betting site? The survey reveals that players place a high value on a provider's fast and convenient payment processing along with well-developed bonus offers.
When entering this market, make sure to keep these things in mind:
The mobile version of your website or app should handle a large amount of traffic to provide a smooth and seamless user experience for mobile users.
The list of payment systems offered should reflect regional preferences (Pay4Fun is the most popular e-wallet in Brazil, for example).
The bonus policy should be implemented to make the gameplay a memorable experience.
While Brazilian players are active, recruiting them does not pay off instantly (about a year on average), which is important to consider when developing a marketing strategy.
3. India
The Indian market continues to grow in demand for online gambling via mobile devices, so a website or app that is mobile-optimised is essential. Additionally, a strong emphasis should be placed on featuring the region's popular sports – cricket, football, badminton – along with other sports world's disciplines and events.
According to Statista, 845.68 million Indians had internet access in 2021, with a projected 1,134.04 million by 2025, providing bookmakers with a large audience of active sports fans.
Preferred sports
If you look at the most popular sports, the situation remains stable – football rules all the tops. With varying degrees of distribution across markets, basketball, tennis and hockey garner considerable attention from players across the globe.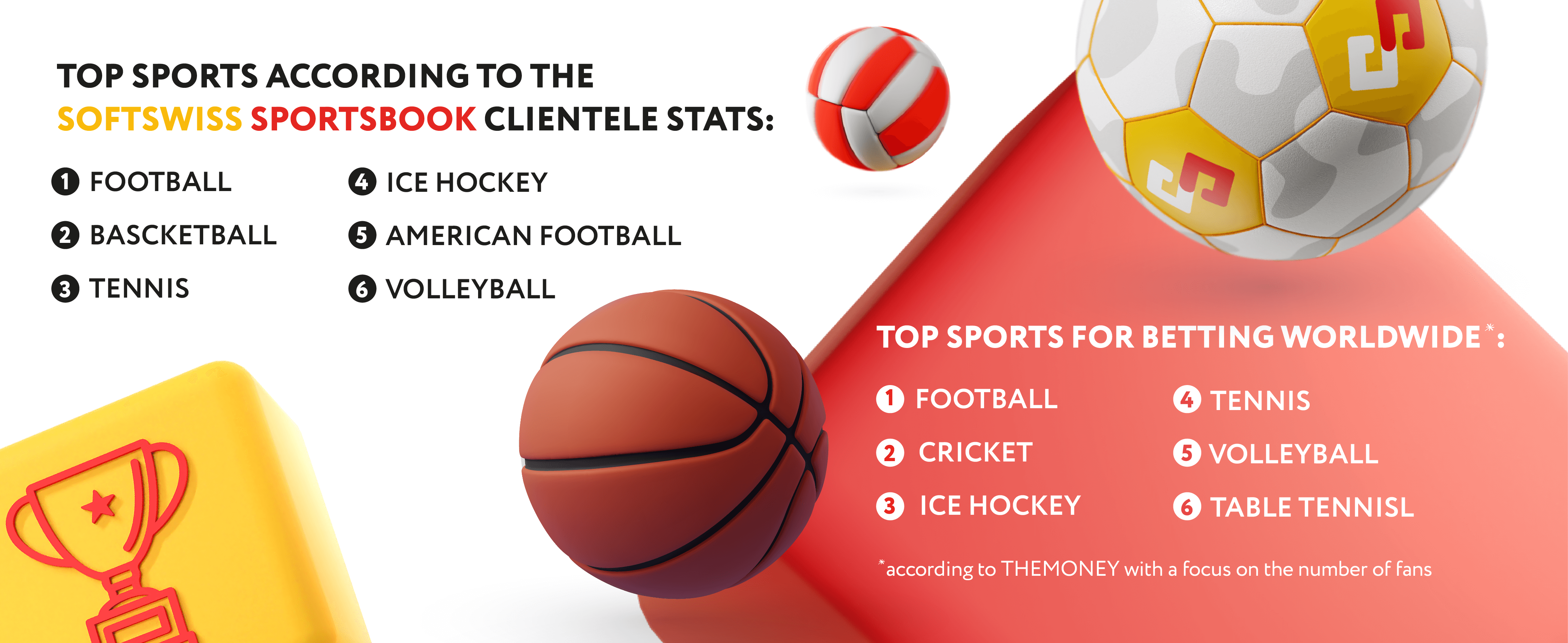 Bettor motivation
When it comes to player motivation, there is no stark difference from casinos. As with any form of gambling, bettors are driven by the desire for adrenaline and money.
One slight difference, however, determines the importance of risk management and odds providers to the bookmaker: it is the audience's desire to test their analytical skills and 'outsmart' the bookmaker. In this case, it is important to eliminate scams from players and rely on quality odds providers who analyse each event in depth and offer realistic and favourable odds for all parties.
Sports betting patterns
In terms of gaming patterns, there are a number of observations to help you better understand your audience. Among them are the following:
1. Live wagering is much more popular than pre-match bets. According to the SOFTSWISS Sportsbook client statistics, almost 60% of all bets are placed in real-time during the event streaming. The majority of players want to enjoy the result now instead of waiting for future pleasure and profit.
Note: bookmakers should highlight upcoming events based on players' interests, gaming activity and geographic location rather than just focusing on a dozen big events that don't happen every day. Using the SOFTSWISS Sportsbook, bookmakers customise the gaming offer and segment their audience to increase the number of gaming sessions and profit.
2. Players are more likely to choose individual sports rather than team sports. Sports betting becomes a competition between bookmakers and bettors in terms of analytical skills. When it comes to team sports, a punter needs a thorough understanding of the rules, individual players, player moves, etc., in order to analyse things deeply, while individual sports can be relatively more predictable.
Casino and Sportsbook Audience Profiles: How Are They Alike and Different?
Having examined casinos and sports betting in detail, let's give a broader perspective: what are the main differences and similarities between these audiences? A clear answer to this question for each brand lies at the heart of brand strategy and determines how authentic, logical, and natural this tandem will feel to the player.
How do casino and sports betting audiences differ globally?
Strategy. Casinos are usually dominated by games of chance (such as slots), where players simply relax and trust fate. Unlike sports betting, where a strong strategy, a deep understanding of the field, and a strong analytical mindset are required. More often than not, sports betting is chosen by people who enjoy challenging their expertise. There is no such thing as a lack of strategy in casinos – especially with card games such as poker and blackjack, but if you look at the big picture, casinos tend to be associated with the games of chance.
Jackpots and bonuses. Here casinos are way ahead of the curve: bookmakers began their journey relatively recently towards developing their own motivational and rewarding strategies. All gamblers value bonuses, which is why the SOFTSWISS Sportsbook emphasises gamification and focuses on creating unique bonuses. And even more: a recent cross-product integration with the Jackpot Aggregator allows the Sportsbook by SOFTSWISS clients to launch and manage custom jackpot campaigns and consequently drive bettor activity.
Sports betting with a limited time frame. A casino game (except live dealer) is normally available 24/7, but sports betting is time-sensitive – you can't bet on an event after it ends. The distinction can be a bit vague since there are so many sporting events in different markets in different fields right now that with proper bookmaker promotion, audiences will not be bored for long but yet remain loyal.
Casino is more simple. Sports betting gives the bettor a sense of control over the outcome, but RNG-based games do not. With these games, there is no learning curve – once you sign up, you are immediately immersed in the gameplay.
Similarities between casino and sports betting audiences
Endless entertaining possibilities. Dozens of game types, thousands of events each month, bonuses and tournaments – there's no denying that the choice for today's gamblers is impressive. Whether a player is more inclined towards sports or casinos, they can now find cross-activities for every taste.
Gamification. Due to the fact that the online gambling market is rather intense and a high-quality game cannot surprise players, operators are trying to create unique gaming experiences and introduce various gamification mechanics – tournaments, bonuses, special loyalty programs – to capture players' attention, the main currency of online gambling.
The desire to minimise losses and maximise enjoyment. Regardless of whether it's a casino or sportsbook, this point highlights what's most essential for active iGaming enthusiasts – safe and engaging online gambling experiences.
Creating a Seamless Player Experience
The desire to scale and create a consistent player experience allows brands to strengthen player loyalty. When any gaming impulse or urge arises, the player still stays within a single brand. In the absence of what the player seeks within a brand, player churn increases.
Rather than the uniqueness of the offer – these days, it is hard to surprise players – what matters is the integrity of the gaming experience, its safety, convenience, and how much  care is given to the player. So how do you create such an experience within your brand?
Take care of a seamless wallet. A convenient financial infrastructure is the most important point in a player's gameplay. Offering a large number of in-demand payment methods for every market (including cryptocurrencies) is essential but insufficient. Successful brands simplify things for their audience and offer one sign-up and one wallet for both sports betting and casino.
Develop a user-friendly interface. A clean, clear, and intuitive design of the site will make it easy for players to navigate and find the game they are looking for. Bright banners, pop-ups, and other elements should not divert the player's attention but rather direct it to the targeted action.
Implement gamification tools. A unified bonus policy, tournaments and challenges that the operator puts in front of the player help in forming cohesive interaction. For example, be sure that your casino players know what events are happening in their location to bet on; check if your bettors receive regular notifications about sport-themed slots or tournaments you organise. Gamification has no rules and can only be limited by the imagination and strategy of the operator.
Make use of localisation. There can be no overemphasis on the importance of localisation. It is crucial for bookmakers to consider the mindset of target players in order to make the journey smoother for them. LatAm markets, for instance, require localisation and availability of sports (a casino plays a supporting role). India, on the other hand, has over 40 dialects and a high level of English proficiency, making localisation unnecessary or even counterproductive.
Bet on crypto. There is a bit of a gambler in every cryptocurrency holder. Keeping in mind volatility, market analysis, picking the right wallet and platform are all things that make crypto holders potential players – passionate, risky, sophisticated individuals. In addition to expanding the brand's target audience, offering cryptocurrencies ensures a wide selection of payment methods – more payment options mean that every potential player will be able to find the option they prefer and join the game.
Follow Responsible Gambling policies. The key is mutual safety – for both operators and players. The observance of the responsible gambling principles is a modern manifestation of care for players, where the operator provides a safe gaming environment so that the audience gets the most out of the gameplay and avoids possible negative consequences (addiction, compulsive play, etc.). To build a quality, long-term community of engaged, addiction-free adult players, sportsbooks, casinos, and brand tandems should take responsibility for their actions and ensure the safety of online gambling.
Next Round of iGaming Business Development
New player acquisition is a time-consuming and expensive undertaking for any operator in any market. About 1 year is an adequate period in which bringing in a player can pay off. Making sure the player is active, engaged and loyal during this time is a top priority for the whole team and the player retention division in particular as player retention one of the most promising igaming trends in the years to come.
Combining a sportsbook and a casino is an excellent retention practice that has proven itself in all types of markets – be it casino- or sports betting-focused regions. One of the most promising iGaming trends is creating a separate metaverse in iGaming, where a player can find both sports, games and poker within the same brand. The tendency is gaining prominence, and there is no better time to jump in – to lead instead of follow.