Starting your own standalone casino is a time and cost-consuming process. Besides all the legal questions, such as company setup and licensing, you have to find the most effective way to handle payments, open a merchant account, make agreements with multiple electronic payment system providers, and organise efficient customer support, and the list goes on.
It's not a big issue in case you are lucky to find a reliable service provider. One who does not just deliver quality software but provides a turnkey solution.
Software providers such as SOFTSWISS can either take over the incorporation and licensing procedures under the White Label solution set-up or recommend reliable partners in the domain, such as licensing and payments, as part of the Turnkey Casino solution (also referred to as the standalone casino solution). In any case, there are significant investments involved, so you'd better be prepared.
Why choose a white-labelled casino?
A White Label casino solution is a widespread and popular casino setup option. The main idea is that you get a ready-to-operate online casino with a unique design and logo, branded with your domain name. It operates under a sub-licence of an existing 'master' licence. This saves you a lot of time and money on the licence application and subsequent maintenance.
This option also comes with ready payment processing, and since all payments are handled by the white label casino provider and master licence holder, it eliminates the hassle of building a dedicated payments management department on the client's side.
Besides the quicker time-to-market, a significant advantage of a white label casino to be mentioned is the affordability in terms of set-up pricing. The entrance costs are considerably lower than those you handle with a standalone casino. And since you have plenty of time to concentrate on marketing, the chances to quickly start earning profits increase.
The downside of white labelling your online casino
However, there are also some negative aspects of a white label casino which need to be considered when choosing which way to go. While offering lower set-up prices, white label casino providers usually charge higher revenue-sharing fees in order to cover their own licensing, support, and maintenance costs.
So you really need to concentrate on promotion and develop an efficient marketing strategy to attract players and be able to cover monthly expenses.
Also, with a white label casino, the level of control of your casino operations is lower and there is limited scope for customisation. At the same time, the casino software development responsibility and risks are also much lower.
White Label Casino and Standalone Casino options compared
The comparison table below will be useful to anyone unsure about whether to start a standalone casino or go with a white label casino option.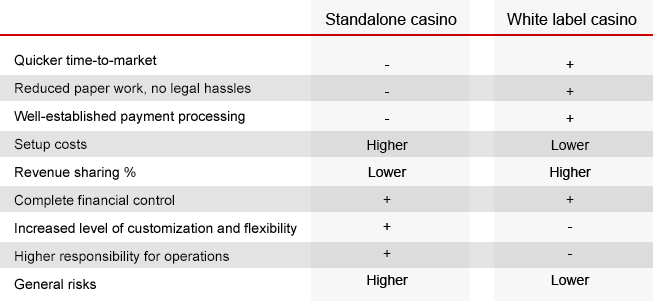 Standalone vs White Label: takeaways
Recent changes in white label jurisdictions such as Curacao have everyone holding their breath as to where the industry will go next and whether the white label model will be sustainable in the future.
While white label casinos have been the best way to make the first steps in running your online casino, operators have to strike a balance between short-term and long-term benefits.
At this point, it is safe to say that if you are committed for the long run, you will be considering a standalone casino solution at some point in your iGaming journey. Whichever option you go for, SOFTSWISS is known as a reliable software provider that caters to operators considering either set-up option.