Several factors drive every player's desire to gamble — adrenaline, risk, emotion, and enjoyment. This desire for emotions is one of the reasons why the iGaming industry is thriving. 
It would be no surprise if we say that the market is extremely dynamic, and to gain a competitive edge operators need to continually improve their products and services. Ultimately, to grow and not just stay afloat, an operator must appeal to customers, meet their expectations, and capture their attention with a unique offer. 
A jackpot is a widely proven tool that helps casinos differentiate themselves from their competitors, excites their players, and enhances their reputation. Here we will discuss two jackpot tools currently available, the strengths and weaknesses of each solution, and which one is considered more preferable in 2021. Let's get started! 
Casinos need jackpots, but why?
Flashy pictures do not attract many players these days, but the money does. When the guest has the opportunity to win a huge sum of money, it is much more interesting for him to stick around. And that is exactly what jackpots offer. For players, it's a chance to try their luck, rack up large winnings, and experience incredible emotions. However, for operators, what does the jackpot offer?
Brand awareness. 
The focus on a casino always increases when it features a jackpot that has interesting mechanics and a good prize pool. Therefore, brand awareness and its reputation as a progressive and reliable casino grow.
Diversity. 
It will be difficult to surprise sophisticated bettors by offering yet another kind of slot or beautiful graphics in 2021 — you need to provide unique offers that stand out from the rest. A unique, authored jackpot is a good way to go.
Growth of the audience. 
A wide range of unique options for players makes it much easier for casinos to entertain their engaged audience and attract new bettors. In addition, there is a type of player called "a jackpot hunter", who actively seeks out jackpot games and definitely will not miss your offer. 
Follow-up and trend formation.
Gamification, excitement, and fresh ideas are always relevant. Although jackpots came to us from the early days of poker, they are gaining popularity and unfolding in new forms in online gambling. Spotting and catching this trend in time is half the battle for casinos.
What does a jackpot mean?
It would be fair to start with a quick note on jackpotting. The jackpot concept dates back to the late nineteenth century, and in today's world of online gambling, the jackpot has retained its basic plain meaning — a big win. Now, however, it is more than just money; it is a full-fledged business solution for both the gaming and non-gaming online sphere.
To summarize, a jackpot is a tool for managing player gambling activity by holding jackpot events to draw jackpot winnings. Depending on the context, 'jackpot' may refer to the win itself, the game, or its stage.
There are several forms of jackpots:
This type of campaign can be divided into many sub-types, but they share one characteristic: the amount won at the end of the jackpot game is always greater than the stated amount. Winnings grow with each wager, and it continues to grow regardless of how long it is played. Operators also benefit from progressive jackpots, since players need to place bets to increase their potential winnings: it is an incentive for bettors to play more effectively.
The size of the Mystery Jackpot usually depends on the number and amounts of bets on the platform over a given period, but the principle can vary. Usually, to qualify for this type of jackpot, a player has to meet the conditions set out by a certain casino (play a particular game, reach a certain wagering threshold, etc.). The jackpot winner is determined by a random number generator.
A multiple or multi-level jackpot can be real luck for the player. Picking a particular game can nearly double the odds of winning because the operator is offering players several jackpots at once instead of just one. The jackpot can be a combination of several types of winnings.
The prize amount for a fixed jackpot remains the same no matter how many players are playing or how many attempts each player makes. In other words, it does not change. This is why you can also come across the name of non-progressive or flat jackpots.
Jackpots that are authored by a particular brand usually correspond to a special format. Everything from the mechanics to the prize pool to the game is unique. Casinos can combine any of the mechanics and jackpot principles above to achieve their goal. This is the main feature of the branded jackpot.
Overview of jackpotting software: Jackpot Systems
Essentially, a jackpot system is a technical system or a platform for organising jackpot events. The main functional purpose of the jackpot system is to organise a jackpot campaign to entertain players and draw attention to the casino. When an operator decides to diversify his casino's offerings, he proceeds to select a jackpot system. This is an important step that affects how fast, expensive, entertaining, and legitimate the jackpot will be. 
Depending on the level of functionality provided by the chosen jackpotting software, the operator has different tools at his disposal to manage different aspects of jackpot campaigns (operational, financial, legislative, and so on).
The main advantage of this jackpot software is that, until recently, it was the only tool available to the operator. As a result, the jackpot system offers all the perks of a jackpot in itself, including increased loyalty and audience engagement. 
It is most often the price of the solution that becomes the issue: the cost of the solution includes the fee to use the product, with installation, setup, and maintenance being extra. 
Also highlighted disadvantage of such systems is a certain lack of uniqueness of the jackpots created. It is typical for such systems to create online jackpots by offering three or four options in one solution. There are usually some settings that can be altered by the operator, but it will not be possible to create a full authoring jackpot, rather a variation on one of the common types.
Also, the setup time is on average quite long. Since a physical server may be needed, the process can take up to three weeks or longer (the time varies).
Overview of jackpotting software: Jackpot Aggregator
The Jackpot Aggregator is an innovative new product from SOFTSWISS that will revolutionise the world of jackpots. In essence, the Jackpot Aggregator is a separate ecosystem that provides each operator with access to a customisable cloud-based jackpot system. 
Jackpot Templates are one of the main advantages. It is a solution that allows operators to save time and resources on developing their jackpots. At the same, casinos have an opportunity to choose unusual mechanics and non-trivial strategies. Operators can change all jackpot template settings according to their needs. However, the casino is not limited in its choice: to choose a template and adjust it according to the casino's values, or to create its unique jackpot system — both variants are possible.
As of now, it is pretty clear that jackpots are more than just casino features. Instead, they're an integral part of marketing and business strategy. So one of the benefits of the Jackpot Aggregator is the ability to segment the audience. Thanks to this feature, the operator can offer different jackpot games to each group of players, thereby increasing their interest and loyalty.
Integration of all kinds is possible: the Jackpot Aggregator, your online casino platform, game provider, and game aggregator will form synergies and strengthen the business. 
There is no limit to how many jackpots can be played simultaneously. On average, jackpotting software setup time is up to 48 hours.
That is just a small part of the benefits that the Jackpot Aggregator offers. However, the novelty of the solution may be perceived as a temporary drawback. The market is not familiar with this approach to jackpots, and therefore there are always doubts, and that is normal. Every solution has its place, it is important to choose the best option for the business at a particular point in time. 
Below you will find a table that demonstrates the features of two jackpotting software solutions.
Summing up
The equipment stage is one of the longest and most time-consuming. The Jackpot Aggregator uses a virtual server instead of a physical one, so operators save resources and get to the market faster.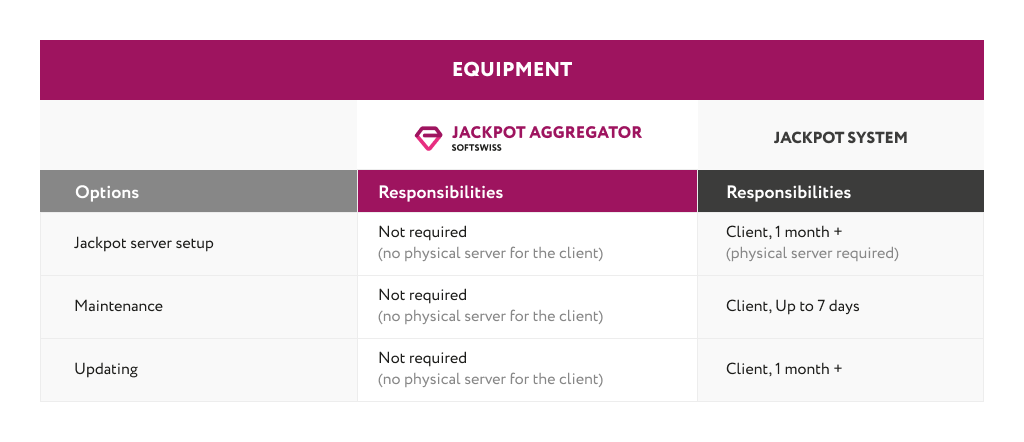 When it comes to the jackpot system, installing and updating software requires client involvement. Depending on the complexity of the jackpotting software selected, the processes may take up to 7 days. The Jackpot Aggregator team takes care of all these issues and provides a solution as quickly as possible. As a result, our clients can focus on their business rather than getting bogged down with operational tasks.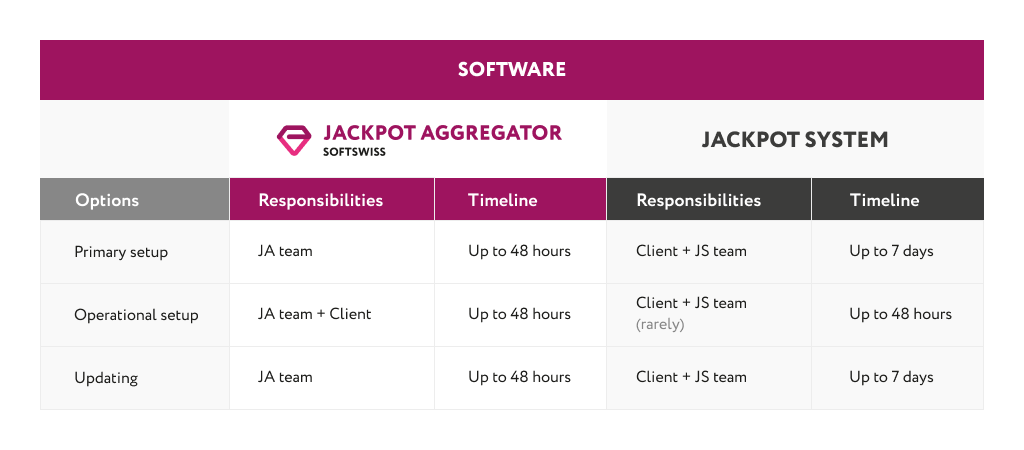 With the comprehensive approach provided by the Jackpot Aggregator, the casino does not need to hire a separate maintenance team — we take care of that. Operators who work with jackpot systems mostly can not escape operational concerns; they need to stay on top of things.

Functionality entirely depends on the system provider chosen by the client; the table just reflects a general trend. The purpose of both the Jackpot Aggregator and jackpot systems is to enable operators to create jackpots and attract their audience. The main thing to consider is what tools these types of software offer and how they can help you scale your company. The choice is ultimately up to each business owner.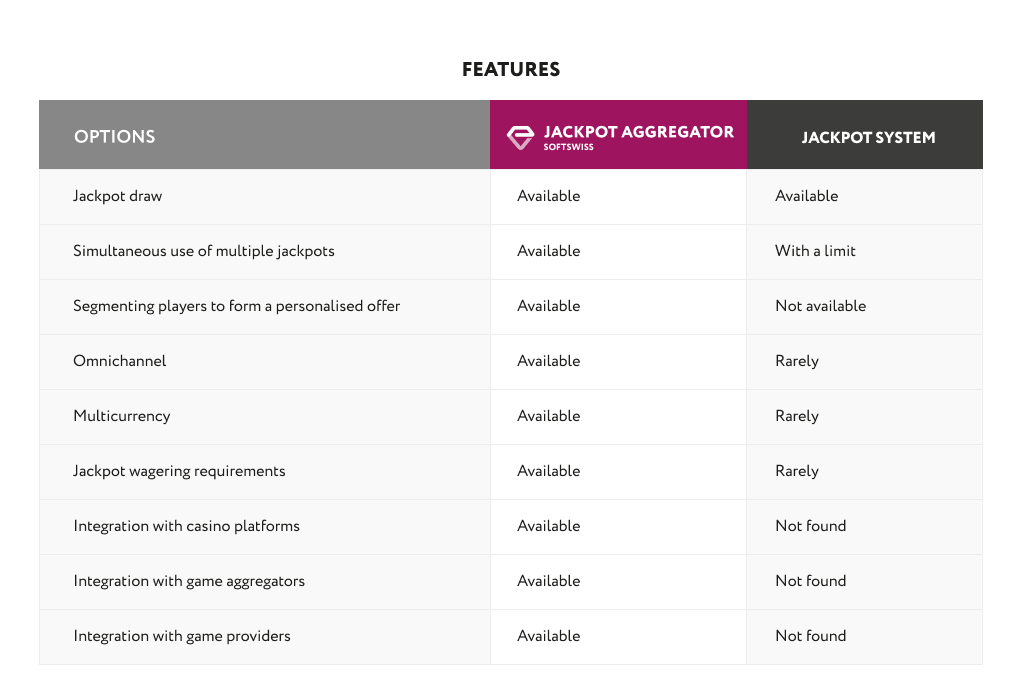 For a full listing of functionality, please get in touch. Our Jackpot Aggregator team is happy to assist.
The choice is yours
There's a jackpot era on the horizon. The popularity of jackpots has once again reached a new peak. Operators hog the covers to attract a larger audience and catch the attention of players, and the jackpot is a great way to do that. Get quality support and service that meets your needs, choose the best jackpotting software, and let your players experience a new level of gambling. 
If the jackpot has your attention as much as ours and you share our holistic approach to jackpot campaigns, contact us directly. 
Join the Jackpot Revolution!