In its first report, the SOFTSWISS Sportsbook has compiled unique insights based on a detailed study of user behaviour in the first half of 2021. The information in the report reflects aggregated anonymous results across all brands powered by the Sportsbook Platform.
The SOFTSWISS Sportsbook, launched in December 2020, has gathered quite a few useful and interesting insights, which it is now ready to share.
Top devices
Although the use of mobile phones in online gambling has been increasing in recent years, by a huge margin among all devices used for fixed-odds betting, desktops dominate. Their share is three times that of mobile devices. However, the statistics change dramatically when it comes to the number of bets placed. In this case, users favour mobile devices, which lead with 77.16% compared to desktops (22.64%). It is typical for desktop users to place larger bets, but less often. In turn, betting from mobile devices is more frequent, but smaller.
Alexander Kamenetskyi, Product Owner at SOFTSWISS Sportsbook, comments: "Our clients' big players trust desktops more. One reason is the convenience of getting information, as well as the greater trust in this format of interaction when large sums are involved. On the other hand, the greater bet count made via mobile devices is due to the accelerating pace of life. The mobile phone allows us to stay up to date regardless of time or place. This is reflected in the statistics. We see this trend and understand that mobile devices are the future. So one of our main objectives for the years to come is to make sure that the share of bets placed across mobile exceeds 80% and that we aim for 100% overall."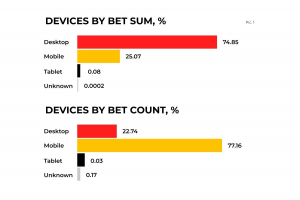 Top currencies
One of the main KPIs in the gambling business is GGR. This indicator reflects the amount remaining in the casino as a result of visitor play, before operational costs are deducted. It is calculated as total bets less total wins.
The US Dollar is the principal currency used by punters and is responsible for 61.15% of all sports betting GGR. The Euro comes in second place with approximately half that share (30.37%). 
You'll be surprised to learn that Bitcoin is not the top crypto by GGR share. Which cryptocurrency came in third place at 8%? See in the Sportsbook Insights Report.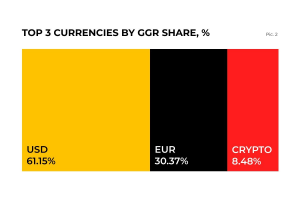 Top sports
The three most popular sports based on GGR share:
Football 59.46%
Tennis 23.47%
Basketball 10.75%
Alexander Kamenetskyi, Product Owner at SOFTSWISS Sportsbook, notes: "This prize trio is not at all surprising for those with a long-standing interest in betting. Football, as the most popular sport, takes the top place.It is suitable for all types of betting, including live betting in the form of a pre-match.
If football is the most popular kind of sport, tennis is one of the most elite ones with an off-season period of less than a month. Its popularity is also influenced by the fact that it is an individual sport and not a collective one. Dozens of tournaments can take place in a week with very detailed statistics, allowing the player to always have enough information to analyse events. Additionally, quick points are available in tennis, where a player bets on the winner of a game, for example, and can win within a minute.
Second place is always claimed by basketball along with tennis. There, too, you can bet on a fast game and get a win here and now. What else might be of interest to professional players is the possibility to catch the bookie at a mistake more easily. However, basketball is very much tied to the market where it is popular, such as in Lithuania."
Gender distribution
This data takes into account the distribution of the bet sum and bet count in the following groups: women, men and gender-neutral people who, for whatever reason, chose not to indicate their gender.
In this case, the statistics are fairly expected. Men are still betting more frequently than women or gender-neutral players: 73.06%, 12.60% and 14.34% of the total respectively. 
At the same time, over 70% of all money spent on bets is accounted for by players who did not indicate their gender or chose to remain gender-neutral. Of the remaining two groups, women accounted for only 3.45% of the total betting and 24.05% for men. 
Alexander Kamenetskyi, Product Owner at SOFTSWISS Sportsbook, explains: "There is probably no particular reason why players do not specify their gender. Perhaps it is because the player who wants to play is keen to start the playing session as soon as possible. But when they get their winnings, they are willing to take some time and fill in the necessary details. And even then, the gender column is not mandatory, so it is simply skipped."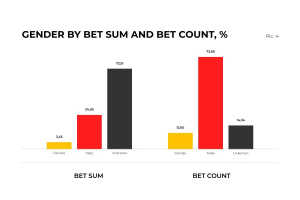 See the full report from the SOFTSWISS Sportsbook by following the link.